Norma Olvera, associate professor of health education at the University of Houston College of Education, has been recognized by the American Public Health Association's (APHA) Latino Caucus for Public Health with the 2013 Distinguished Nationally Known Health Professional Award.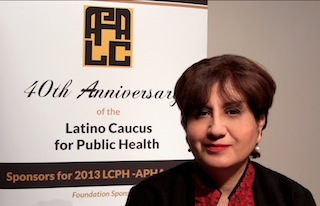 Olvera was honored at the APHA meeting in Boston as part of the Latino Caucus for Public Health's 40th Annual Awards Dinner.
"I'm very humbled and honored by this recognition that comes from a group of colleagues celebrating four decades of promoting efforts that make a difference in the health of the Latino community," Olvera said. 
The APHA's Latino Caucus represents the unique perspectives and special public health problems common to Latinos in the United States.
It annually presents this award to individuals who have elevated health promotion, education and services in Latino communities; made an impact on access to health services and/or improved care practices of Latinos nationwide.
Olvera has devoted her career to the promotion of healthy living in Latino and African American families. Her research interests include the socialization practices, cultural beliefs, poverty and education levels that influence children's eating practices, as well as the physical activity levels in minority and immigrant populations.  To that end, she has developed, implemented and evaluated several community obesity prevention and treatment programs involving a strong parental component.
For example, her award-winning annual summer camp, BOUNCE (Behavior Opportunities Uniting Nutrition and Counseling Education), focuses on minority, middle school girls and their families, a population shown to be at risk for obesity and its related health issues.  The four-week camp promotes healthy lifestyles through nutrition, self-esteem and exercise workshops.
"It is incredibly satisfying to see how much girls and their mothers change their eating habits and become more active while losing weight and inches," said Olvera. "BOUNCE is about empowering families to develop a healthy way of life that becomes a lifetime lifestyle."
In 2006, the Texas Public Health Association named it one of the best and most innovative nutrition and physical activity programs in the state.
Olvera is the current president of the Hispanic Health Coalition in Houston. 
---