Both native and non-native Texans are familiar with the famous battle cry, "Remember the Alamo!" that spurred on the troops of Sam Houston following the bloody battle in south Texas. The history of the Lone Star State is both legendary and unknown.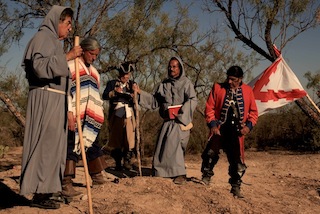 A new film, "Texas Before the Alamo," chronicles the founding of Texas through the Spaniards who established its missions, presidios and trails.  It will premiere at an event presented by the University of Houston Center for Mexican American Studies (CMAS) and the UH Department of History at 5 p.m., Tuesday, Nov. 19 at the Farish Hall KIVA room. The event is free and open to the public. 
"The film answers pivotal questions about Texas' history regarding the founding of the state's most revered historical sites, the Alamo and Goliad, its rivers and the trails that became known as El Camino Real de los Tejas," said Lorenzo Cano, associate director of CMAS. "It also discusses why the Spanish permanently settled Texas in the early 1700s, even though the region possessed no mineral wealth."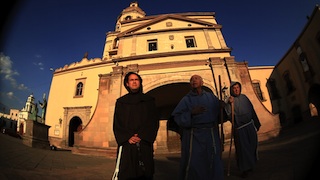 "Texas Before The Alamo" tells the stories of Spanish soldiers and Franciscan priests in the struggle to keep France from settling Texas and reaching the source of Spain's power--the silver mines of northern Mexico. The film features historic sites in Texas and Mexico and interviews with noted historians.
The Consuls General of Mexico and Spain will attend. 
The film will be broadcast on pubic television in 2014.
Prior to the film screening, UH history professor Raul A. Ramos will lead a panel discussion featuring:
    •    Professor Felix D. Almaraz Jr. (UTSA | Professor Emeritus of Borderland Studies)
    •    Louis-Marie Fardet (Université Paris-Sorbonne, France | Musicologist & Historian)
    •    Professor David Urbano (St. Mary's University | Texas History)
    •    Professor Gilbert Cruz (St. Mary's University, San Antonio | Borderlands History)
    •    Rufus Davis, Adai-Caddo Native Tribal Chief (LSU | Native American Studies)
For more information, visit
www.texasbeforethealamo.com
WHAT: "Texas Before the Alamo" A Film and History Symposium of Spanish Texas
WHEN: 5 p.m., Tuesday, Nov. 19
WHERE: Farish Hall, first floor KIVA room
For directions and parking information, visit
http://www.uh.edu/maps/buildings/?short_name=fh
---