For the latest information on Barron's hours of operation or to contact the lab, please visit Barron's at http://www.hrm.uh.edu/STUDENT-LIFE/Student-Hangouts/Barrons-Restaurant/
In a commercial kitchen inside the University of Houston Conrad Hilton College of Hotel and Restaurant Management, dozens of people prep food, wash dishes and arrange their cooking stations. In the dining room, others are arranging silverware and setting the tables for the upcoming lunch crowd.  For these students, the tasks are not part of their jobs, rather it's a lab that is preparing them for even better jobs in the hospitality industry when they graduate.
"This is a completely student-run restaurant/lab," says Kristi Baker, who is a lecturer and instructor for the food and beverage service course and the food and beverage management course, a capstone course for students emphasizing in food and beverage, catering or events. "As part of their course requirements, the food and beverage service students rotate through the positions of server, line cook, dishwasher and host."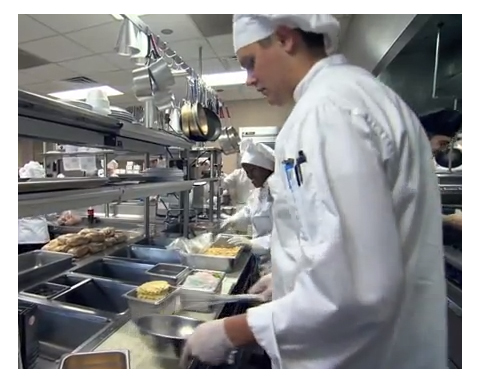 Barron's Restaurant is a casual restaurant with an upscale feel. Open for lunch during the fall and spring semesters, Barron's menu includes items such as the pesto chicken spinach salad, artisan pizzas and sandwiches, and signature entrées like the Cajun chicken pasta and parmesan-crusted tilapia. Nothing on the menu costs more than $8. While the students learn how to prepare good food, the bigger emphasis is on delivering great service. Before each lunch service, Baker and her graduate assistants convene with their respective teams. 
"You should all be walking your line about five minutes before we open … walking the cold line, the hot line and expo," says Baker to the students that are assigned to the kitchen.
Even the role of Barron's General Manager is occupied each day by a food and beverage management student. On this day it's Jose Kong.
"I try to delegate with the servers I have, look at the floor plan, designate who is serving what, which table section they are having and just monitor what the other service students are doing," says Kong. "In this class, you have a little fun, but you learn hands on, which is great."
As with running any restaurant, there will be mistakes and challenges. But at Barron's, students are graded on how they handle and overcome those situations.
"It is a learning opportunity for our students, so things don't always go according to plan, but that's part of the teaching opportunity for them. That's when my three graduate assistants and I step in and try to teach them the business," says Baker.
"They are learning what the service standards are and how to manage those at a higher level." 
Baker says the goal for her advanced management students is for the Barron's experience to give them the foundation needed to walk into a job interview with confidence.
"When they go into their food and beverage management interviews, they can talk about the experiences they've had here, and they can show interviewers that they have what it takes to step into a management role and lead a team."
For more information on Barron's Restaurant, visit http://www.hrm.uh.edu/STUDENT-LIFE/Student-Hangouts/Barrons-Restaurant/
---