A new book, written by a cognitive psychologist at the University of Houston, uses evidence-based research to help first-time-in-college students succeed.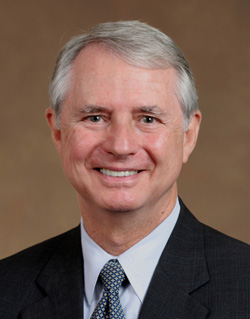 "Getting in to college is easier than getting out, and getting out on time," said psychology professor Donald Foss, author of "Your Complete Guide to College Success: How to Study Smart, Meet Your Goals, and Enjoy Campus Life." "Study skills, habits and attitudes predict success in college, and I look at the evidence and the research to help students succeed, and present it in a student-friendly manner."  
Foss spoke with students and colleagues from institutions around the country regarding student learning and student success.
"Most students believe that studying amounts to reading, underlining, then re-reading," he said. "Here's the message: by that definition, studying is not the best way to study!"
Foss discusses strategies that involve honest self-evaluations of material that go beyond long nights memorizing highlighted items.  Dubbing it the "testing effect," Foss notes students must think of tests not just as assessments, but opportunities for a true learning experience. He says there is strategy to learning effectively and efficiently.
"That means know what you're supposed learn, see the goal, evaluate where you are and march to where you need to be," he said. "That requires honest evaluation to prove to yourself that you know the material. Students should strive to study smarter."
With such chapters as "Going to Class with Class," "Who's Who –and Who Helps You Be Successful," and "Your Campus Life: The Dorm and The Drive," Foss also discusses practical aspects of college, like figuring out roommate issues, financial issues, choosing a major and choosing a career.  He says the advice is for their college years and the rest of their lives.
"Some students may feel like much of college is about fun and freedom, but most are worried about their future, whether they'll be able to survive in college and what they'll do after college.  Their goal, though they may not express it that way, is to become mature adults," he said.
Foss says his informational road map to college success is also helpful for parents who did not go to college, but want to help their student through the college experience.
"I think the problems most students are working on are similar as those you and I worked on," he said. "My goal is to help them maneuver, learn, grow and succeed."
Professor Donald Foss has been in higher education for more than 25 years.  He teaches graduate and undergraduate psychology courses and has research interests in cognitive psychology, specifically language comprehension.  He has published more than 50 refereed articles and book chapters on these topics, as well as co-written or co-edited seven books.
---