Some 40 years after he studied acting as a student at the University of Houston, award-winning actor and humanitarian Dennis Quaid returned to campus to attend commencement.
"If it wasn't for UH, I wouldn't be where I am," said Quaid, who was accepted to the university as a drama major in 1973. "I would not have had the career and the opportunity that I've had in life, because it was here that I got all the tools to go out and achieve a dream. Otherwise, I would have just been drifting around." 
During the ceremony, Quaid was awarded the President's Medallion from UH President Renu Khator. He was honored for his creative contributions as an actor and for his works with various children's charities. He took some time to share his experiences with the graduates and the audience at Hofheinz Pavilion.
"I found at this great university a purpose— a sense of direction in my life— and a belief that I could achieve a dream. My teachers, who were my mentors, specifically Mr. Cecil Pickett and Dr. Sidney Berger, taught acting as a craft." 
Before the ceremony, Quaid reflected on his time at UH.
"I remember doing a scene for Mr. Pickett, and the first words out of his mouth were, 'Of course you know that you failed miserably,'" said Quaid. "He was very real... brutally real. And he inspired me. He said to go out and watch people."
Quaid said one the greatest things about being an actor is getting to go through doors that say "authorized personnel only" and learning about other people's lives and what they do.
"I've ridden around with the cops in New Orleans on the midnight shift. I've been in the cockpit with Chuck Yeager. I've got my pilot's license," he said of his experiences.  
Important for Quaid was that the University gave him a safe place— to sometimes fail and always grow.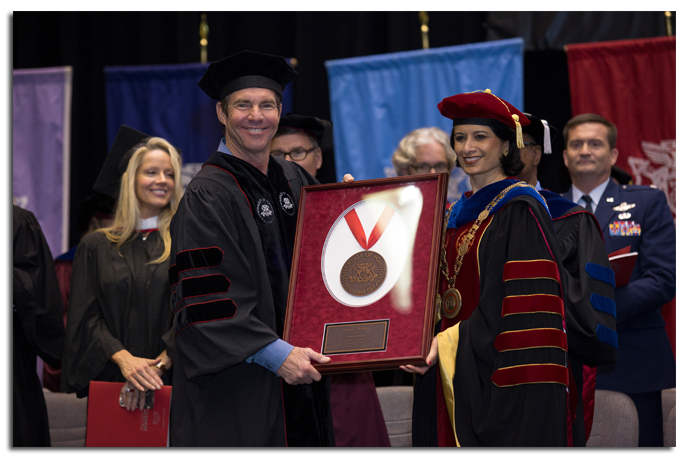 "Out there in the real world, they give you one shot, kid," he said of his early career trying to make it in Hollywood. "The university was a safe place, and it was also one that had constructive criticism."
Later, Quaid said a big moment came during an extended visit to the University of Houston, which came shortly after he had left Houston for Los Angeles and was struggling to find acting work.
"I was coming back here and sitting in on class with Mr. Pickett, and I remember being in the office and he had his back to me. He was getting his mail and he said to me 'Dennis, why are you still here? Go back.' And that stung a little bit, but he was right."
Quaid soon returned to Hollywood. He said getting his first job as an actor was a hurdle, but it happened a year to the day after he left Houston to take another shot at it.
"It was really getting 'Breaking Away' with director Peter Yates who really taught me about film acting. He really taught me how to be still and just trust."
Quaid has now appeared in more than 70 feature films. 
"I always judge them by the experience of making them. The movie that really stands out is 'The Right Stuff' … it was my favorite experience of all time – playing an astronaut and just everything that went with it."
Quaid grew up in Houston and has fond memories of "Space City." He said he recalls watching Alan Shepard go into space from a television set up in his first grade classroom and considered Gordon Cooper his favorite astronaut. He said returning to visit can be a little surreal … as the Houston he grew up in had fewer than a million residents.
"A lot of the landmarks are gone – but the streets still flood," he said laughing. "The first house I grew up in, they knocked it down a couple of years ago to make room for the mansion-izing that's going on in Bellaire."
But Quaid said he's proud to see acting still being taught "as a craft" whenever he returns to the University of Houston.
"So many young people just want to be a star now, and a craft is what carries you through."
In his speech to students, Quaid fondly recalled learning that craft. In doing so, he says he found the tools to achieve his dreams. 
"It was here at the University of Houston that a fire was lit inside of me that still burns to this day. It was here that I was given the tools to achieve my dream in life."
---