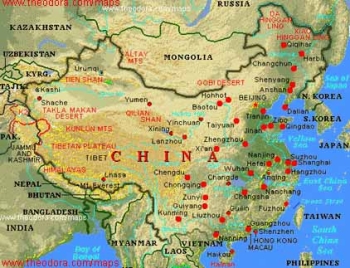 The Council of Social Work Education (CSWE) has chosen the University of Houston (UH) Graduate College of Social Work (GCSW) as one of seven graduate programs in the U.S. to help China build its social work education program over the next five years. The government of China aims to have two million social workers by 2020. 
"To be invited to assist the country of China in developing a professional work force of social workers to meet the needs of its people is a great honor," said Darla Spence Coffey, president of CSWE. "This is a momentous and system-changing event in the history of China, and we are certain to learn as much or more from our Chinese partners and the process as they will learn from us. It truly is a mutual and reciprocal collaboration that will reap many rewards for all involved." 
According to Ira Colby, dean of UH GCSW and past president of CSWE, the demand for graduate degreed social workers currently exceeds the capabilities of colleges and universities in China. As a result, China turned to international colleagues for help through a demonstration project known as the China Collaborative, organized by the CSWE Katherine A. Kendall Institute, the China Association for Social Workers (CASWE) and the International Association of Schools of Social Work (IASSW), for assistance to rapidly expand social work education in China.
After completing a competitive application process, UH GCSW was one of seven universities in the U.S. selected to participate in the China Collaborative. The other universities include: Arizona State University, Case Western Reserve University, Fordham University, University of Alabama, University of Chicago and University of Southern California.
"When Chairman Mao was the leader of China (from 1945 -1976), he eliminated social work as a profession. Under the recent reforms that have taken place in China over the last 15 years, social work was seen as a necessary discipline to help communities develop and people re-engage, especially in the rural parts of China, " Colby said.
"The China Collaborative will provide opportunities for UH GCSW students and faculty to visit China and faculty and students from China to visit Houston. The goal is to build capacity through faculty, staff and student exchanges; mentoring and consultation; building research infrastructure; and further social work education in an international context in mainland China."
Patrick Leung, a professor of social work and director for the Office of International Social Work at UH GCSW, will direct the UH initiative. Leung is one of three Chinese professors at UH GCSW, in addition to Monit Cheung and Dennis Kao.
"UH has a longstanding relationship with China, which is one of the reasons we were selected to participate," said Colby. "This relationship has served as the foundation for our international initiatives in China, where we have taught and offered opportunities for over a decade to students and faculty to study abroad."
The seven U.S. universities are organized by seven regions with one lead Chinese university partnering directly with a U.S. counterpart to share information among the other 52 Chinese universities currently in the group. UH GCSW is partnered with the east region where the city of Shanghai is located. Organizers of the collaboration tried to make sure the partners had expertise and experiences that were germane to the Chinese universities. 
"With UH located in the 4th largest city in the U.S., it made sense to be partnered with Shanghai, one of the largest cities in mainland China with 20 million people in an urban environment," said Colby. "At UH, we understand urban education because UH is located in Houston, an urban area."
# # #
About the UH Graduate College of Social Work
The UH Graduate College of Social Work (GCSW) is a nationally recognized program, ranked 37 by U.S. News & World Report, educating professionals for social work practice, research and leadership. Offering MSW and PhD degrees, the GCSW is the only social work program in the world to have a Nobel laureate on its faculty. The GCSW advocates for innovative, collaborative, inclusive and humane policies and solutions that promote social, economic and political justice. A commitment to critical thinking that links rigorous scientific inquiry, ethical social work practice and community engagement generates new knowledge to the field of social work and many other disciplines.
About the University of Houston
The University of Houston is a Carnegie-designated Tier One public research university recognized by The Princeton Review as one of the nation's best colleges for undergraduate education. UH serves the globally competitive Houston and Gulf Coast Region by providing world-class faculty, experiential learning and strategic industry partnerships. Located in the nation's fourth-largest city, UH serves more than 40,700 students in the most ethnically and culturally diverse region in the country. For more information about UH, visit the university's newsroom at http://www.uh.edu/news-events/.
---