The Sugar Land Wine & Food Affair, a 10-year culinary tradition anticipated for the national chefs and sommeliers it attracts, has some added assistance this year. For the first time, a team of student managers from the University of Houston Conrad N. Hilton College of Hotel and Restaurant Management was selected to work on critical aspects of the event. 
"This is a three-credit-hour class," said Krystal Peay, director of the Sugar Land Wine & Food Affair and UH faculty advisor. "They were enrolled in the class, interviewed and then chosen in the fall for their positions.  Eight students are on the team."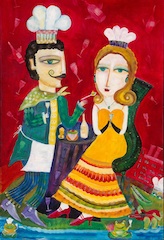 The event is planned for April 24-28 in locations around Sugar Land.  For more information or to purchase tickets, visit http://www.sugarlandwineandfoodaffair.com or call 713-747-9463.
The college, which trains the next generation of hospitality industry leaders, is known for its experiential learning opportunities. Students will be working on real projects: managing travel plans for out-of-town chefs; recruiting wineries, breweries and restaurants; enlisting student volunteers; coordinating social media and marketing; managing ticket sales; and organizing more than 300 wines that will be poured at the festival.
"We are the future leaders in the hospitality industry," said senior Stephanie Truett. She is the Guest Hospitality Manager for the event. "What better way to get the name of the Hilton College out there and show what we're able to do than to be involved in an event like this."
Peay says students are getting a first-hand look at event planning and food and beverage management. 
"Students are getting the opportunity to personally connect with the culinary and beverage community and gain insight to the inner workings of a large-scale affair," she said. "The students have an excitement and a passion for the industry that is contagious, and the participants are drawn to that. We're thrilled to offer our future hospitality leaders the opportunity to work directly with the leaders of today."
The UH Conrad N. Hilton College of Hotel and Restaurant Management has been a beneficiary of the Sugar Land Wine & Food Affair since the festival's inception in 2003. Proceeds support a permanent scholarship endowment at the college.
To hear at UH Moment visit http://app1.kuhf.org/articles/1364316762-UH-Moment-Sugar-Land-Wine-and-Food-Affair.html
 For more information on the UH Conrad N. Hilton College of Hotel and Restaurant Management, visit http://www.hrm.uh.edu/
---