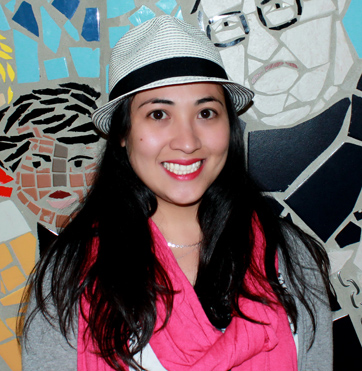 Two University of Houston (UH) students, one from the UH Graduate College of Social Work (GCSW) and one from UH College of Pharmacy, will lead health-related service initiatives for underserved individuals and communities during 2013-2014 under the Houston-Galveston Albert Schweitzer Fellowship Program.
Joining approximately 220 other Albert Schweitzer Fellows working at 13 program sites, 12 in the U.S. and one in Africa, the newly selected Houston-Galveston Albert Schweitzer Fellows will partner with community-based organizations to develop and implement yearlong service projects that address the social determinants of health.
Antonia Caliboso, a second-year student at the UH GCSW, will design and implement "Skate It Out," a program aimed at empowering adolescent girls who are at-risk for mental, emotional and behavioral problems or who struggle with obesity or issues with "coming out" as lesbian, gay, bisexual, transgendered or questioning youth. Her site partners include Houston Roller Derby and Girls Inc. In addition to learning the sport of roller derby, the project will include an off-skates classroom component that will cover topics ranging from nutrition and cross-training to leadership and empowerment.
"The goal of this program is to teach these girls the sport of roller derby and skating as a healthy outlet for emotions, to empower them to become leaders and to provide positive role models and social environments," Caliboso said. "This project is a labor of love as it combines my passion for the sport of roller derby and my desire to meet the mental health needs of adolescent females. I firmly believe in the necessity of alternative interventions to deal with the challenges faced by adolescents today."
Jag Maturi, a third-year student at the UH College of Pharmacy, plans to develop programs to increase access to healthcare services for the region's South Asian populations and homeless community in Houston.  His site placement includes BAPS Swaminarayan Sanstha – Houston, an organization that strives to better society though cultivating skills and nurturing growth with a broad array of activities, and HOMES (Houston Outreach Medicine, Education, and Social Services) Clinic.
"The South Asian population of Houston frequents the BAPS community. I will be interacting with the visitors by detailing the importance of lifestyle modifications, such as physical fitness and dietary modifications, while emphasizing the direct benefits," said Maturi. "I will assist with language translation, as well as biometrics, such as blood pressure and glucose screenings. The goal is to implement lifestyle modifications and increase the value of primary healthcare."
Maturi also will be working with are the homeless population who visit the HOMES Clinic in downtown Houston on Sunday mornings. HOMES is a collaboration between medical and pharmacy students to assist visitors seeking help with their healthcare problems. He will conduct an analysis on the populations' diets to determine which lifestyle modifications may improve their quality of life. The population group is complex with financial limitations paralleled with limited shelter.
"Our fellows were selected after a competitive process, and they have signed up for an enriching leadership development experience. They will develop and implement projects that will address the root causes of health inequities, and they will be doing this while also fulfilling their academic responsibilities," said Houston-Galveston Schweitzer Fellows Program Director Jennifer Cook. "Under the close guidance of community and academic mentors, their projects – each of which is set in a community-based organization that serves vulnerable populations – are designed to make measurable differences on issues, such as health literacy, childhood obesity and access to primary care."
Upon completion of their initial year, these Houston-Galveston Schweitzer Fellows will become Schweitzer Fellows for Life and join a network of more than 2,000 Schweitzer alumni who are skilled in, and committed to, addressing the health needs of underserved people throughout their careers as professionals.
Since the Houston-Galveston Schweitzer Fellows Program's founding in 2008, its Schweitzer Fellows have delivered more than 2,000 service hours of direct service to vulnerable community members. A listing of 2013-2014 Houston Galveston Schweitzer Fellows is available at www.schweitzerfellowship.org/houston 
# # #
About the University of Houston
The University of Houston is a Carnegie-designated Tier One public research university recognized by The Princeton Review as one of the nation's best colleges for undergraduate education. UH serves the globally competitive Houston and Gulf Coast Region by providing world-class faculty, experiential learning and strategic industry partnerships. Located in the nation's fourth-largest city, UH serves more than 40,700 students in the most ethnically and culturally diverse region in the country. For more information about UH, visit the university's newsroom at http://www.uh.edu/news-events/
---