The University of Houston is the only university in Texas offering a four-year degree program in American Sign Language Interpreting (ASLI).
"An interpreter could one day be in a courtroom, another day they could be in a doctor's office.  They could find themselves interpreting for President Obama," said Sharon Hill, coordinator of the University of Houston's ASLI Program.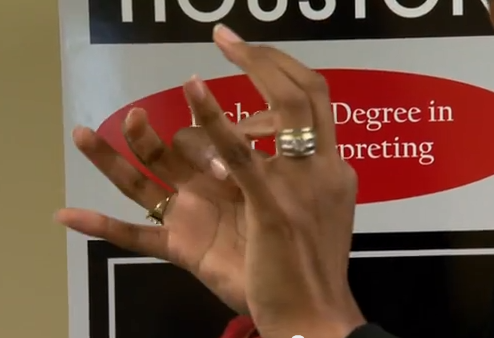 By law, deaf individuals are not allowed to be discriminated against and have rights to an interpreter.  Nationwide, there is a tremendous need for qualified American Sign Language (ASL) interpreters.  In Texas, for example, there are only about 1,500 ASL interpreters serving a deaf community that makes up nearly 15 percent of the state's population.
"We focus on making sure students develop not just their linguistic skills, but that they understand the needs of the community.  We have strong collaborations and partnerships with those within the deaf community to make sure our students, upon graduation, are accepted," explained Hill.  "We make communication accessible, so that way it kind of levels the playing field for those who are deaf so they have access to the same information."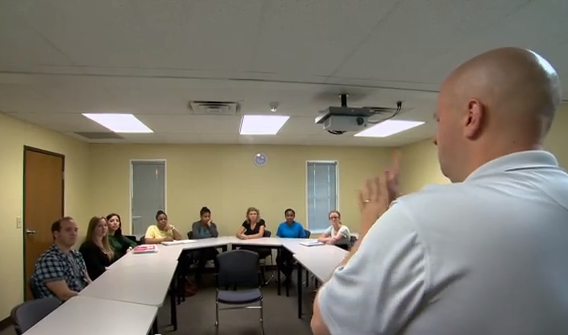 At the University of Houston, ASL classes are only taught by native ASL users. 
"You have students who register for American Sign Language and they assume it will be just like every other foreign language.  They walk in the door and they are absolutely taken aback that their professor is Deaf, that their professor uses this language his or her entire life," said Hill.
The goal of the UH ASLI program is for graduates to not only leave the university with a Bachelor of Arts degree, but also for them to be qualified to pass the Board for Evaluation of Interpreters (Texas) and the Registry of Interpreters for the Deaf (National) certification exams.
"Many other colleges choose to place this (ASL) in a two-year degree program, where it is more workforce or technical skills-based.  Because on the national level there is a requirement for national certification that there be a bachelor's degree before you can sit for that exam, UH has chosen to raise the bar for the state of Texas and say, 'we support that national certification.'  We want to offer a four-year degree program so that students can enhance their skills and can enhance their understanding of the community and the services that need to be provided," said Hill.
---