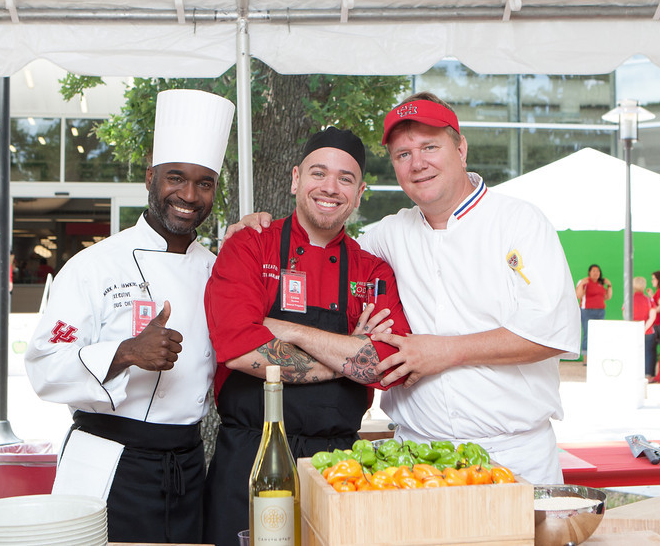 In the largest event of the year for staff, a sea of staffers decked out in Cougar red recently descended upon the Cougar Woods Dining Hall for a lunch in their honor. Sponsored by the Office of the President and Staff Council, the annual Staff Appreciation event drew colleagues from across campus for plates of barbecue and an hour filled with music, live cooking competitions and charitable giving.
UH President Renu Khator and other administrators visited with attendees and thanked them for the work and continued contributions in making UH a Tier One University.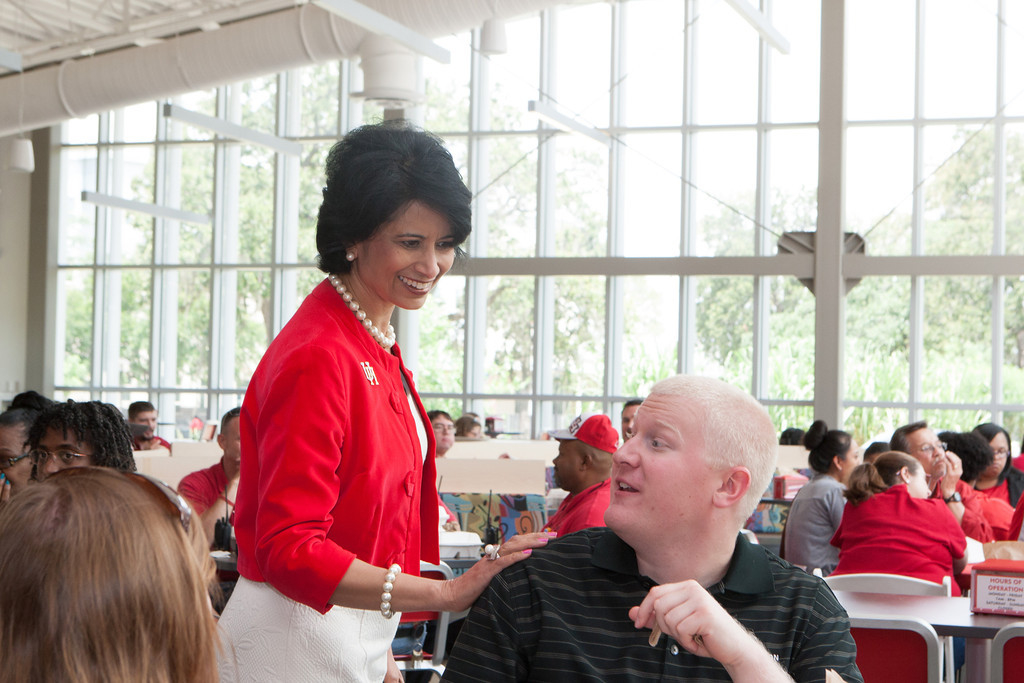 "I look forward to these events each year. It's a wonderful opportunity to demonstrate in a very real way just how much we value our staff members and the important work they do for the University," Khator said. "This year's lunch was particularly pleasing because we had such a large turn-out.  So many people wearing Cougar red! And so much good food and great fun!"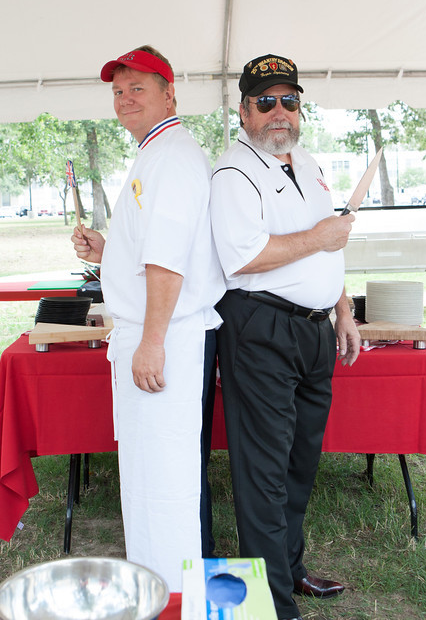 Inside Cougar Woods, UH's newest state-of-the-art dining facility, more than 1,300 staff members were served a traditional barbecue lunch of brisket, potato salad, baked beans, stuffed bell peppers and an assortment of desserts.At cooking stations on the lawn outside, the event showcased a live cooking competition. The Cougar Chow Down Challenge featured UH staff members with culinary talent challenging accomplished chefs from UH dining services in a cooking duel. The competitors each had an assistant, a sauté pan, a propane burner and 30 minutes to complete a recipe of the amateur's choosing, featuring no more than five ingredients.
Michael Ateberry, the transportation manager to the president who many on campus know as "Sarge," challenged James Colson, UH's executive chef for catering, in the preparation of a shrimp and avocado ciabatta. Donna Rickard, a New Orleans native and executive administrator in the C.T. Bauer College of Business, also challenged Colson with her steak and spinach pinwheel recipe. Colson, who has worked with eight master chefs in his career, emerged the winner of both challenges.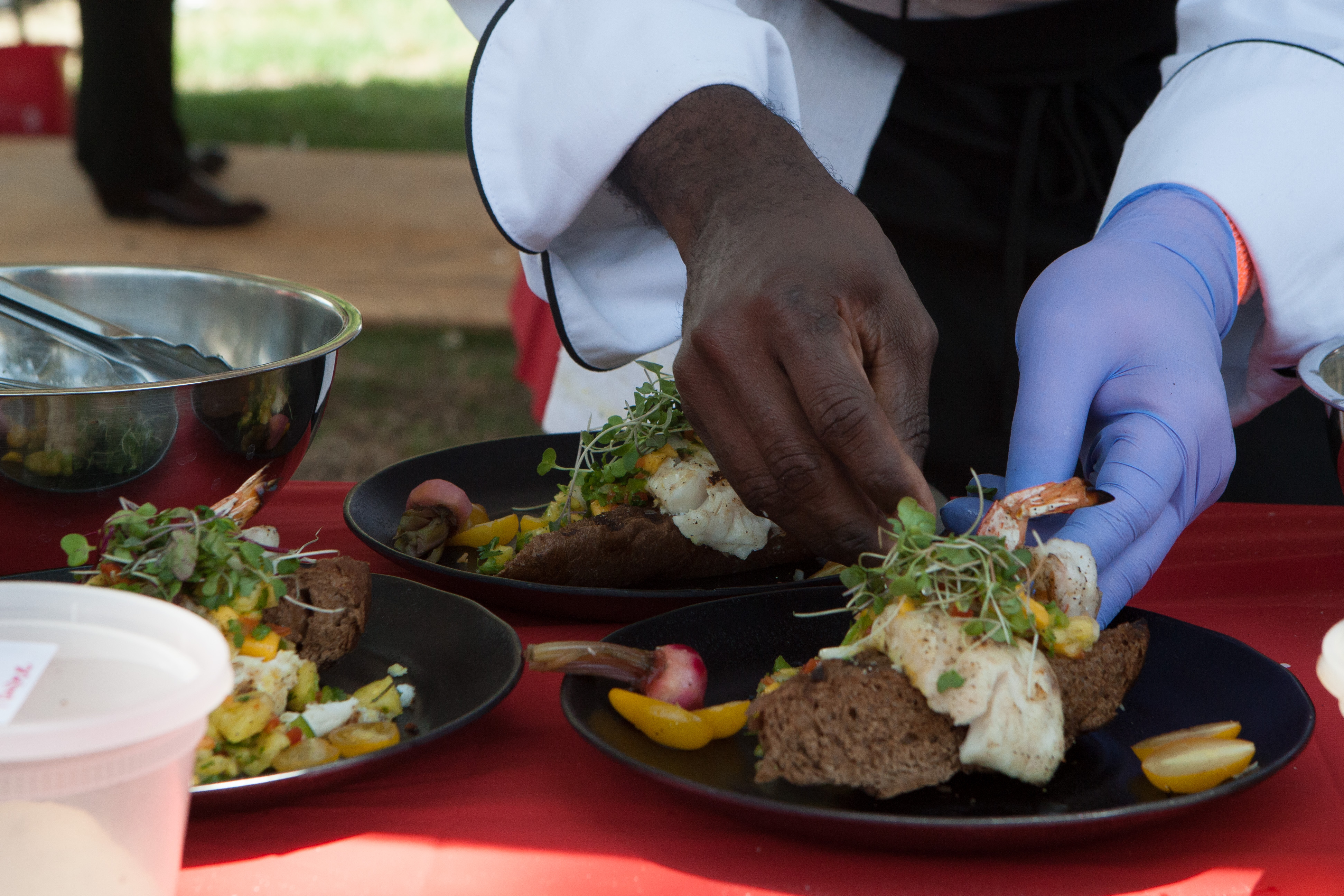 Stephen Butler, transcript analyst for registration and academic records and also a culinary student at Houston Community College, battled Grant Keaton, chef and production manager for residential dining at UH and a former Hilton College student. Butler emerged the winner with his version of teriyaki salmon with ginger chard. Finally, Rob Stewart, associate athletics director for marketing and promotions, fell to UH chef and 28-year culinary veteran Mark Hawkins. The judges preferred Hawkins' version of a tilapia sub with pineapple pico de gallo. Each of the winning recipes will be featured on a Friday this fall in Cougar Woods.
In the spirit of community involvement, attending staff members also donated non-perishable canned goods to the Houston Food Bank. In all, more than 1,000 pounds of food was collected and donated on behalf of the UH staff members.       
---