It's easy to be motivated when the going is easy.  When adversity and challenge rear their heads, the road to success can seem blurred.
University of Houston students Edward Carrizales and Flavia Vancia know that first hand.  Adversity and challenge threatened to derail their academic goals, but help from the Houston Livestock Show and Rodeo (HLSR)  kept those dreams in sight.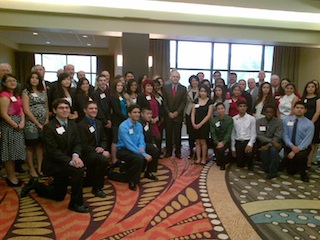 "The road to my success has not been an easy one for me, but with opportunities granted by the Houston Livestock Show and Rodeo, I'll be able to clear all obstacles out of my way and continue riding on the road to achievement," said Carrizales.  
A junior double-majoring in accounting and management information systems, Carrizales' story could have been much different. The son of a single parent and surrounded by the wrong crowd in middle school, he says he made a conscious choice to do well in high school, seek out positive people and give himself a chance for a better life.
"My goal was to be that son who would take my parents out of poverty, be that student who would graduate with highest honors, be that role model to my young brother and, possibly, be the next Steve Jobs or the first Hispanic president of the United States," he said.  Carrizales became the valedictorian of his Scarborough High School class. 
The Houston Livestock Show and Rodeo Scholarship is going a long way to help him achieve his goals.  He's a recipient of a $15,000 Metropolitan Rodeo scholarship.
The HLSR is a longtime supporter of students and a longtime partner with the University of Houston. The first HLSR scholarship was awarded to a UH student in 1987.  Since then more than 1,455 UH students, from the main campus and its sister campuses, have received nearly $14 million in scholarships, easing the financial stress of going to college so students can focus on their futures.
Working hard has been part of the recipe that's helped student Flavia Vancia through her young life.  Born in Romania, Vancia knew no English when she and her family arrived in New Caney, Texas. She was 3 years old. Hard work propelled her to the top of the New Caney High School senior class.  She graduated seventh in her class. Now a sophomore at UH majoring in biology/pre-medical, Vancia plans to attend medical school in Texas.  She is the recipient of a Opportunity Scholarship that provided her with $16,00 for her four-year academic career.
"Making the transition from high school to college was not an easy task," she said.  "Thanks to the generosity of the Rodeo Scholarship sponsors, the financial stress of my undergraduate degree is no longer a looming problem."
This year alone, UH students were awarded more than $800,000 in scholarships.  By next year, rodeo officials hope to increase that amount to $1 million.   
"Meeting the students and hearing their stories, that's a pay day for us," said HLSR chairman Steve Stevens.  "It comes down to our mission of supporting youth and education. We hope to help more students next year with even more scholarship funds."
---