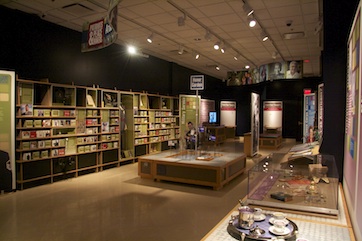 Arab Americans have long contributed to the cultural and industrial landscapes within the United States. Soon, the University of Houston will host an exhibition celebrating the accomplishments of this important segment of America's population.
"Patriots & Peacemakers: Arab Americans in Service to Our Country" will be on view March 11 – April 5 in UH's Alumni Center (3100 Cullen Blvd.). The multimedia, interactive exhibition will showcase the roles of Arab Americans in America's diplomatic initiatives, U.S. Armed Forces and the Peace Corps.
The exhibition will showcase a range of notable leaders including:
Michael E. DeBakey, noted surgeon, scientist, medical pioneer
Faye Glenn Abdellah, former Deputy Surgeon General
George Joulwan, retired U.S. Army General
Susan L. Ziadeh, U.S. ambassador to Qatar
George Mitchell, former U.S. senator and former Special Envoy for Middle East Peace
Edward Gabriel, former ambassador to Mexico
Maha Angelina Armush, foreign service officer
Ruth Ann Skaff, former Peace Corps volunteer
James Jabara, former U.S. Air Force pilot
Abraham Jamail, U.S. Army technical sergeant honored with Distinguished Service Cross
"Patriots & Peacemakers: Arab Americans in Service to Our Country" was researched and produced by the Arab American National Museum with support from The Ford Foundation, The Kresge Foundation, the Community Foundation for Southeast Michigan and Chevron. Visit the "Patriots & Peacemakers" website for additional details.
"Our university is proud to be hosting this exhibition and to be working with Houston Friends of the AANM," said Jerald Strickland, UH associate vice president of international studies and programs. "This exhibition tells the story of 100 years of contributions by Arab Americans. It offers experiences of heroism and self-sacrifice that affirm the important role Arab Americans have played in our country throughout history."
The program, Strickland added, complements UH's Arab Studies Program, which launched in 2012 and efforts by the Houston-based Arab-American Educational Foundation to create a chair in Modern Arab History at the university.
UH's Arab Studies program is part of the Modern and Classical Languages department. It offers a minor in Arab Studies, which requires 18 credit hours (nine of which are Arabic language courses). For more details on the program and the minor, visit the Arab Studies website.
"This is certainly the right time to have this exhibit, especially given the growth of Arab Studies at UH," said Emran El-Badawi, director of UH's Arab Studies Program. "The exhibit provides a valuable opportunity for students, as well as members of the public, to learn about the contributions of Arab Americans in an academic setting. Since the exhibit itself is multimedia and interactive, I anticipate that it will be an interesting and exciting learning experience for all visitors."
The Arab American National Museum (AANM) is the first and only museum in the United States devoted to Arab American history and culture. The museum documents, preserves and presents the history, culture and contributions of Arab Americans.  It is based in Dearborn, Mich., and is an affiliate of the Smithsonian Institution. For details on the museum, visit its website.
###
About the University of Houston
The University of Houston is a Carnegie-designated Tier One public research university recognized by The Princeton Review as one of the nation's best colleges for undergraduate education. UH serves the globally competitive Houston and Gulf Coast Region by providing world-class faculty, experiential learning and strategic industry partnerships. Located in the nation's fourth-largest city, UH serves more than 40,700 students in the most ethnically and culturally diverse region in the country.
---