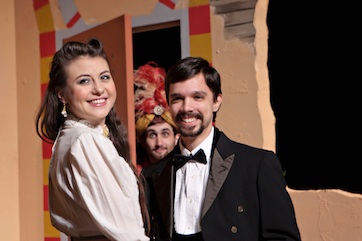 Infidelity has never been so impossible. When the very married Benoit and his best friend's wife, Marcelle, arrive at the seedy Paradise Hotel, their attempts at a tryst are constantly thwarted. Not only is Marcelle's husband Henri staying at the hotel, but Benoit's maid Victoire and her bookworm boyfriend (Henri's nephew) Maxime also are guests. Adding to the mayhem are several outlandish characters and equally wild situations.
Georges Feydeau's comic farce "Paradise Hotel" premiered in 1894, and it continues to entertain theater audiences. Houstonians soon will get in on the joke when the University of Houston's School of Theatre & Dance presents "Paradise Hotel" in the university's Wortham Theatre (Entrance 16 off Cullen Boulevard). The play will be performed Feb. 22 – March 3. Show times are as follows:
8 p.m., Feb. 22, 23, 28, March 1, 2
2 p.m., Feb. 24, March 3
Tickets are $20, $15 for UH faculty and staff, $12 for seniors and $10 for students. To purchase tickets or for more details, contact the box office at 713-743-2929 or visit the School of Theatre & Dance's website.
"Feydeau's plays resonate with contemporary audiences because they're outrageously funny and psychologically sound," said director Gus Kaikkonen. "It's the characters' deep needs and very human desires that get them into ridiculous situations. When they inevitably get slapped down, the audience loves it."
"Paradise Hotel" is the third UH play directed by visiting artist Kaikkonen. Last year, he helmed "The Crucible," and in 2011, he directed "Wild Oats."
The cast of "Paradise Hotel" includes UH School of Theatre & Dance actors: Matt Sevryn as Benoit Pinglet, Shelby Blocker as Angelique Pinglet, Sarah Cortez as Marcelle Paillardin, Miguel Angel Garcia as Henri Paillardin, Zachary Leonard as Maxime, Michaela Heidermann as Victoire and Jason Ronje as Mathieu.
 The UH School of Theatre and Dance produces professional plays, dance concerts, studio productions, a new play festival and school shows through the Theatre for Young Audiences program. The school performs in the Wortham Theatre and the Quintero Theatre. The Houston Shakespeare Festival is a professional project of the school, which is produced each summer at Miller Outdoor Theatre. The UH School of Theatre & Dance offers bachelor's and master's degrees in theater and teacher certifications in dance and theatre. Its graduate program consists of a master of arts in theatre and master of fine arts in theatre with specializations in acting, directing and design. Faculty includes Pulitzer Prize winning playwright Edward Albee, Tony Award-winning playwright Mark Medoff, Tony Award-winning producer Stuart Ostrow and Tony-nominated designer Kevin Rigdon. Among the greats who have taught at the school in previous years are Lanford Wilson, Sir Peter Hall and Jose Quintero. In 2012, the school was named "Best College Theater" in the Houston Press Theater Awards. For details on UH's School of Theatre & Dance, visit www.theatredance.uh.edu.
---