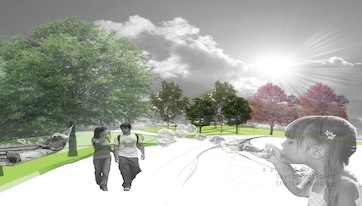 Kuhlman Gully was once a serene, natural waterway located in Houston's historic Third Ward. The one-mile tributary (flowing into Brays Bayou) and surrounding grassy banks are still around. Located on South Wayside Drive (between Old Spanish Trail and Wheeler Street), the gully is no longer a picture perfect piece of urban nature. Years of neglect have transformed a once peaceful part of the Third Ward into a trash-filled ditch.
Longtime residents of the community have memories of what Kuhlman Gully used to look like. If two University of Houston architecture students have their way, the gully may start to resemble the natural gem it once was.
UH Gerald D. Hines College of Architecture graduate students David Rodriguez-Goujon and Shalini Moodley have spent the fall semester researching the area and developing plans to transform the small waterway into an urban eco-park . The project was undertaken as part of UH's Landscape Urbanism course (taught by Asakura Robinson principals Keiji Asakura and Margaret Robinson).
"Our proposal is to revitalize the gully's ecology and expand it, so that it merges into an urban setting," said Rodriguez-Goujon. "The proposal also aims at alleviating flooding problems in the area and widening the gully."
Rodriguez-Goujon and Moodley also researched trees, plants and grass that could be planted and thrive at the gully. Moodley said that the native Texas tree Green Ash would work well at the site and add seasonal color.
"We want the gully to be very vibrant. We looked at Texas plants that would offer both function and aesthetics. The Green Ash, for example, turns a beautiful reddish velvet in winter and a golden yellow in autumn. It also is resilient in extreme climates and provides food to many types of wildlife," she said. "Our plan uses trees and plants like this to create colorful bands on the edge of the gully."
Rodriguez-Goujon and Moodley's project offers a hypothetical example of how Kuhlman Gully can once again be a useful part of the community. Still, both students stirred the imaginations of community members during a recent presentation hosted by the Southeast Houston Transformation Alliance (led by UH research professor Carroll Parrott Blue).  During this event, the students shared their plans with Third Ward constituents including Houston City Council member Wanda Adams.
The plan received kudos and compliments from those in attendance, said Rodriguez Goujon. While nothing is set in stone, both he and Moodley are hopeful that their research and planning may lead to a brighter future for Kuhlman Gully.
"Our presentation was well received," Rodriguez-Goujon said. "Councilwoman Adams liked our plan. A developer who is working on a lot in the same area as Kuhlman Gully also was very interested. Both Shalini and I hope that this plan may move forward or inspire a productive use for an area that has so much potential."
UH's Gerald D. Hines College of Architecture offers bachelor's and master's degrees in a variety of disciplines. These include architecture, space architecture and interior architecture. Faculty members include esteemed professionals in the architectural community, as well as award-winning academic veterans. Facilities include studio spaces, the new Materials Research Collaborative, computer labs and the Burdette Keeland Jr. Design Exploration Center. To learn more about the college, visit http://www.arch.uh.edu/.
thekuhlmangully720 from Johnny Hanson on Vimeo.
---