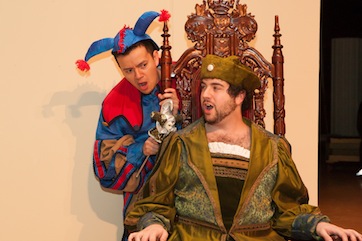 Audiences in Houston are well aware that the University of Houston boasts an ambitious and entertaining opera program. Following recent awards from the National Opera Association (NOA), opera aficionados around the country are starting to discover what local audiences have known all along.
For the third year in a row, the Moores Opera Center (MOC) has taken top honors in NOA's annual Opera Production Competition. The center earned first place in the competition's Division V for its production of Dmitri Shostakovich's "Moscow, Cheryomushki" and second place in Division IV for Giuseppe Verdi's "Rigoletto."
Categories are divided according to operas' sizes and budgets, and competitions entries are submitted through video recordings of productions. Awards will be presented during NOA's annual convention Jan. 9 – 12 in New York.
The Moores Opera Center performed "Moscow, Cheryomushki" in January. Buck Ross, MOC director, directed the production, and Jake Sustaita, MOC general manager, conducted the music. Principal roles were performed by students Brandon Grimes (Boris), and Katrina Van Mannen and Leah Bobbey (alternating as Lydochka).
Ross also directed "Rigoletto." MSM faculty member Brett Mitchell served as musical director. Principal roles were performed by students James Rodriguez as Rigoletto and Chris Trapani as the Duke. Ashly Neumann and Kirsten Leslie alternated the role of Gilda.
"This validation of our philosophy at the Moores Opera Center is very gratifying, especially to see how our adventurous repertoire has been consistently singled out for recognition," Ross said. "We only started entering this competition three years ago and to have won each of those three years is yet another demonstration of UH's Tier One status."
Last year, the Moores Opera Center's production of "Amelia" took first place Division IV of this same competition. The center also took home second place in Division V for "Der Rosenkavalier." In 2011, the center took first place in Division IV for "Il Postino."
Up next for the center is Gian-Carlo Menotti's Pulitzer Prize-winning opera "The Counsul" (Jan. 23 – 26)  and "The Barber of Seville" (Jan. 24 – 27). Both operas will be performed in the Moores Opera House.
Ross founded the Moores Opera Center in 1986. The center produces four productions each season. Among the MOC's Houston premieres are Nino Rota's "The Italian Straw Hat," Daron Hagen's "Amelia," Daniel Catán's "Il Postino," Robert Aldridge's "Elmer Gantry," Ricky Ian Gordon's "The Grapes of Wrath," Sergei Prokofiev's "The Love for Three Oranges," Carl Maria von Weber's "Der Freischütz," Samuel Barber's "Vanessa," Jules Massenet's "Chérubin," Gioachino Rossini's "Il viaggio a Reims," and Kurt Weill's "The Rise and Fall of the City of Mahagonny." Professional recordings include the center's productions of Dominick Argento's "Casanova's Homecoming" and a DVD release of Robert Nelson's "A Room With a View." For more details on the Moores Opera Center, visit http://www.music.uh.edu/opera/. 
Each year, NOA's production competition recognizes excellence in operas from small opera companies and training programs such as conservatories and academic institutions. NOA also sponsors annual competitions focusing on opera vocals, scenes, compositions, scholarly papers and dissertations.
Founded in 1955, the National Opera Association promotes opera and musical theater, and supports projects that improve the scope and quality of opera. To learn more about NOA, visit www.noa.org.
---