Science, technology, engineering and mathematics (STEM) education is a pivotal issue for Houston and across the nation.  Future educators will need new and innovative ways to motivate and inspire students to pursue this critical field. 
Former NASA astronaut and engineer Bonnie Dunbar will address these challenges as she speaks to future teachers from the University of Houston's College of Education. The College's 2013 "First Lecture" is planned for 1:30 p.m., Friday, Aug. 23 in the UH Cullen Performance Hall. 
Dunbar, who is on faculty with the UH Cullen College of Engineering, brings her national and international STEM experience to lead the new UH STEM Center. The Center builds upon successful programs in several of the UH colleges.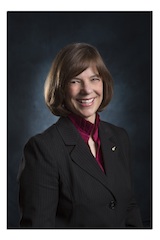 Dunbar was a mission specialist with NASA and is a veteran of five space flights.  She has logged more than 50 days in space and flew the first docking flight between the Russian Space Station MIR and the Space Shuttle in 1995. She also has been inducted into the Astronaut Hall of Fame in Florida. 
"Developing a pipeline for careers in science, technology, engineering and mathematics will play a major role in the sustained growth and stability of the U.S. economy, and is a critical component to helping our nation win the future," Dunbar said.  "To address the grand challenges of this great country, we need the new ideas, new companies and new industries created by STEM careers. This has been historically, and will be in the future, the key to great progress in the United States."
Professor Dunbar will be available for interviews before and after the event. 
The College of Education began "First Lecture" in fall 2011 as a way to usher in the new academic year positively and with inspiration. Other featured speakers have been award-winning educator John Hunter and decorated veteran and Navy SEAL Eric Greitens.
About the UH College of Education: 
http://www.coe.uh.edu/
About Professor Bonnie Dunbar: 
http://egr.uh.edu/news/201303/video-qa-dr-bonnie-dunbar
WHAT:UH College of Education "First Lecture"
              Featuring UH Professor, Alum and Former Astronaut Bonnie Dunbar           
WHEN: 1:30 p.m., Friday, Aug. 23   
WHERE: Cullen Performance Hall, Entrance 1 off of Calhoun,
http://www.uh.edu/cph/getting.htm
---