Student and faculty volunteers from the University of Houston College of Pharmacy (UHCOP) received national recognition this summer for their work to expand essential health care services for Houston's homeless population.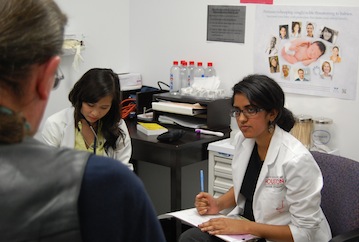 Bestowed by the American Association of Colleges of Pharmacy (AACP), the Student Community Engaged Service Award is in recognition of the team's ongoing activities through the Houston Outreach Medicine, Education and Social Services (HOMES) Clinic. An interprofessional, student-run clinic in downtown Houston, the clinic operates under the auspices of the nonprofit Healthcare for the Homeless-Houston (HHH), which was founded by Baylor College of Medicine (BCM) physician David Buck.

The HOMES Clinic is a collaboration of UHCOP, BCM, the UH Graduate College of Social Work and the Schools of Medicine and Public Health at UTHealth. The clinic has served more than 3,000 patients since it was launched in 2000.

The clinic is open every Sunday to ensure access to needed services on a day when most other health care providers are closed. This also reduces the use of hospital emergency rooms for non-life-threatening conditions.

Pharmacy faculty member David Wallace, student project leader Kim Anh Pham and pharmacy dean F. Lamar Pritchard recently received the award and grant monies totaling $16,000 at the AACP Annual Meeting in Chicago.

"I'm elated that the HOMES Clinic team is being acknowledged for serving the homeless community for more than a decade," said Pham, who also was appointed as the clinic's first executive director from the UH College of Pharmacy. "Being a part of the HOMES Clinic has not only helped me in deciding what I want to do in my pharmacy career, but it also gave me insight to the needs of the homeless population. I've gained a deeper understanding of how homelessness could happen to any of us as a result of life-changing events or circumstances that are often beyond a person's control."

Pham said the grant monies primarily will be used to restock and expand the on-site pharmacy's supply of common medications, including inhalers for asthma and other lung conditions, antibiotics, vaccines and psychiatric drugs.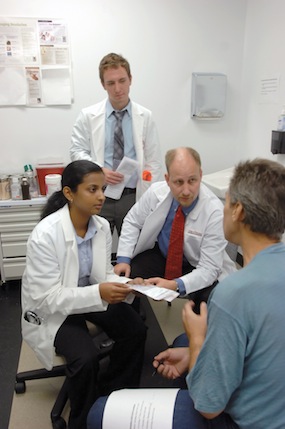 Serving in a supervisory role over pharmacy students, Wallace has been a fixture at HOMES almost every Sunday since the clinic opened.

"It's very rewarding to see the students grow not only in their technical and clinical knowledge and skills, but also in their empathy and awareness of the complex medical, mental health and social needs within this patient population," Wallace said.

Pritchard said the HOMES Clinic is a prime example of the impact of interprofessional teams in providing basic health services to the underserved through collaborative education and practice models.

"One of the most critical health care challenges we face nationwide is poor medication adherence, with an estimated total annual cost upward of $300 billion due to increased hospitalizations and other factors," Pritchard said. "The HOMES Clinic and safety net providers such as HHH play a vital role in providing basic health care when few other options are available, preventing potentially serious complications resulting from interruptions in drug therapies."

Recognizing student-led community engagement projects, the four national awards given each year are intended to encourage student pharmacists and faculty to design and build programs of community-engaged service learning, delivering consumer education about medication use, expanding access to affordable medications and improving public health. In addition to the UHCOP, the other recipients were Butler University College of Pharmacy and Health Sciences, the University of Hawaii at Hilo Daniel K. Inouye College of Pharmacy and Midwestern University Chicago College of Pharmacy.

For more information on the AACP Student Community Engaged Service Award, visit http://www.aacp.org/career/awards/Pages/studentcommunityengagedserviceawards.aspx. For more information on the HOMES Clinic, visit http://www.homeless-healthcare.org/homes.html.
###
About the University of Houston
The University of Houston is a Carnegie-designated Tier One public research university recognized by The Princeton Review as one of the nation's best colleges for undergraduate education. UH serves the globally competitive Houston and Gulf Coast Region by providing world-class faculty, experiential learning and strategic industry partnerships. Located in the nation's fourth-largest city, UH serves more than 40,700 students in the most ethnically and culturally diverse region in the country. For more information about UH, visit the university's newsroom.

About the UH College of Pharmacy
For more than 65 years, the University of Houston College of Pharmacy (UHCOP) has shaped aspiring pharmacists, scientists and researchers. The college offers graduate degrees in pharmacy administration, pharmacology and pharmaceutics, a professional pharmacy degree, combined professional/graduate degrees, and post-graduate residency and fellowship programs. With facilities on the UH campus and in the Texas Medical Center, the UHCO is accredited by the Accreditation Council for Pharmacy Education.

To receive UH science news via email, sign up for UH-SciNews.

For additional news alerts about UH, follow us on Facebook and Twitter.


---