Students returning to the University of Houston for the 2013-14 academic year will notice improvements across campus— from new residential buildings to remodeled apartments and expanded parking. The University is also launching several new green initiatives.
In August, UH opened a new student-only parking garage located adjacent to the Welcome Center Parking Garage and across from Moody Towers.
"I can remember numerous times I've been late to class because I can't find parking," said Kimberly Fritz, a UH education major. "It's awesome that we now have something just for students."
UH Parking and Transportation Director Bob Browand said it's not just more parking, but the location means more convenient parking for students.
"With the connection to the Welcome Center Garage, it's over 1,800 parking spaces just for students," said Browand.
The improvements come with an increase in the number of students living on campus. Two new residence halls are opening this week, bringing UH's residential capacity to 8,000 beds—the second highest capacity among Texas universities. The new facilities include Cougar Place, which will accommodate up to 800 students for the first time this semester, and Cougar Village II, which will house 1,100 first-year students.
"Everything is closer," said John Ezell, an engineering major who lives on campus. "You want lunch, and you just walk downstairs. You want to study, and you go to the library. Everything is here instead of dealing with traffic, which I do right now."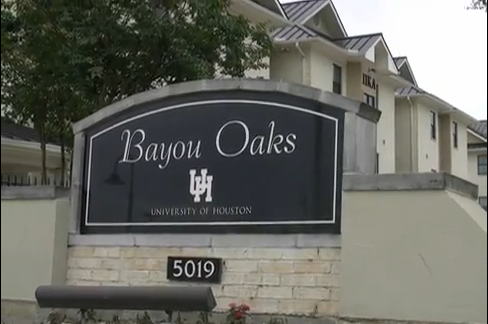 The Bayou Oaks Apartments, home to 470 UH students, is also new and improved, having just undergone a $2.4 million facelift. Upgrades includes new lighting, kitchens and plumbing, and improved laundry and Internet services.
Several green initiatives will also create efficiencies across campus. More Big Belly solar waste bins have been installed. The units cut down on pick-ups, which saves time, money and emissions.
"The Big Belly bins actually tell us when to collect the trash," said Michael Burriellow, UH Central Plant assistant director. "They are Wi-Fi connected, and we get a report that tells us they are full."
In addition, the University's Central Plant has added new chillers, cooling towers and boilers, which provide more efficient cooling and heating to 90 percent of the buildings on campus. Another new feature that keeps students hydrated is the installation of 32 water bottle filling stations across campus.
"It's definitely a cost saver," said Fritz, who regularly fills her UH tumbler at the new stations instead of buying bottled water.
UH Dining Services broke a record last school year, opening up a new dining hall and serving more than a million meals. In fall 2013, the University has hired an executive chef who will be responsible for rolling out new menus featuring 500 new recipes at Fresh Food Co. and Cougar Woods dining hall.
Students have already begun moving into the residence halls. The largest move-in effort will take place Thursday and Friday, with residents of Cougar Village, Cougar Village II and Cougar Place moving in. Classes begin Aug. 26.

---