Twelve University of Houston students are packing for La Crosse, Wis. for the 27th National Conference on Undergraduate Research (NCUR). More than 3,500 undergraduates from 45 states, plus the District of Columbia, Puerto Rico and Canada, are expected to attend the three-day conference, April 11-13, to present their research, scholarly and creative works. The twelve students represent a variety of disciplines including chemistry, psychology, biology and biochemistry, math, engineering and business. 
"This opportunity provides a liaison to graduate schools, professionals and peers," said Ramon Montano, a senior electrical engineering major. "It's also an excellent skill-building experience as we learn more about conveying technical information to both technical and non-technical audiences." His research concerns the design of antennas for cube satellites, or CubeSats, that will allow the enormous structures to be joined together in modules. They'll perform the same tasks, but be more efficient to produce and launch.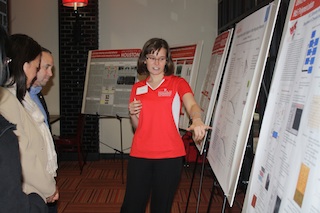 Cultivating research skills in all disciplines, on and off campus, is a university priority. Students have opportunities to pursue undergraduate research one-on-one with guidance from faculty mentors. The experience has far reaching effects—preparing them for the rigors of graduate and professional research, teaching them how to work effectively with a team and grooming them for presentation opportunities, such as the NCUR.
"We are proud to support our undergraduate researchers who will showcase their findings on the national stage," said Veronique Tran, director of Learning through Discovery, who will travel with the students to the conference. "At NCUR, they will also have an opportunity to network and seek advice about graduate and professional schools."
The UH students received Undergraduate Travel Fellowships to attend the conference.
Sarah Stanley, a junior majoring in mathematics, will present research related to gene regulatory networks. 
"This is excellent preparation for graduate school where successful research depends on one's ability to communicate complex information with clarity and precision not only to colleagues, but to those of different backgrounds who may benefit from the results," she said.
Students will present research on the following topics:
Differential Toxicity of Cholera Toxin and E. Coli Enterotoxin Explored Using Molecular Dynamics Simulations (Lindsey Brier)
Spatiotemporal Development of Late-born Rods and Bipolar Cells and their Synapses in Mice with Gestational Lead Exposure (Jaime Orlando Carrillo Martinez)
Order Effects of Novel Word Learning: Bilingual Advantage of Second Label Retention (Shane Hutsen)
On the Development of Integrated Antennas for the Cube Satellite (CubeSat) (Ramon Montano)
This, Not That: Materialism's Effect on Impulse Purchases (Kyley Pitts)
Keratocyte and Neutrophil Interaction in Mouse Cornea Characterized by a Novel 3-D Ultrastructure Approach (Nancy Shenoi)
Peptide Conjugation by Click Chemistry (Dema Shobaki)
Stochastic Delay and Signal Propagation in Gene Regulatory Networks (Sarah Stanley)
Conversion of Fibroblasts into Cardiac Progenitors (Fatima Syed/Dasha Tikhomirova)
Adjective Learning in Children: Mechanisms Involved in the Successful Acquisition and Extension of Novel Adjectives (Audrey Utti)
A Pilot Study Analyzing Nonverbal Behavior During an Iterative Social Interactive Trust Game (Roya Zamani)
For more information on the National Undergraduate Research Conference, visit http://www.cur.org/ncur_2013/
For more information on the Learning through Discovery/Quality Enhancement Plan, visit http://www.uh.edu/discovery/
---