The Houston Zoo is committed to educating the public on wildlife conservation efforts. Soon, the world-renowned zoological park will have new partners in promoting animal awareness.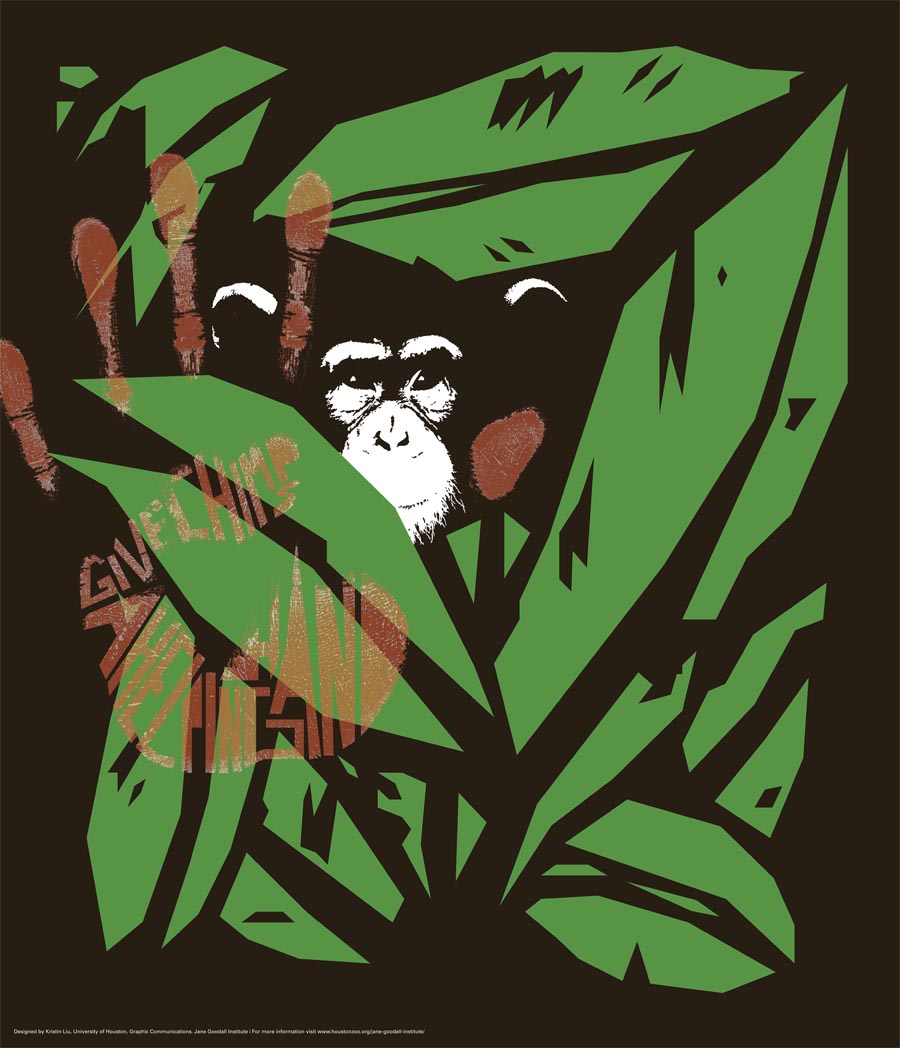 University of Houston graphic communication seniors recently applied their talents to posters detailing the plights of several endangered species. Zoo patrons will have an opportunity to view these works during two upcoming special events: "Mane Event" on Oct. 4 and "An Evening with Jane Goodall" on Oct. 10.
Under the guidance of UH professor Cheryl Beckett, students have been designing posters that are focused on the 12 conservation efforts supported by the Houston Zoo.
"These posters can be used as wall art, but more importantly, they are designed to motivate people's interests in conservation, said student Emily Goad.
Students selected endangered species, then began researching these animals and developing poster concepts. Posters feature conservation facts and messages regarding animals such as Borneo pygmy elephants, chimpanzees, rhinoceros and African painted dogs.
"This project helped us with developing effective aesthetics," said student Brandon Robinson, who designed a poster focused on African painted dogs. "We're trying to create something aesthetically pleasing and that serves a purpose. That's a big part of this assignment. We
have to create something beautiful that also communicates a message."
Robinson's poster features bold a red backdrop with images of two brown and white painted dogs with text that reads "Underdogs. Painted Dog Conservation." Other posters include Kristin Liu's piece that concentrates on chimpanzees. Her work shows a chimp's face peering through green leaves against a black background. A brown human handprint is stamped across the image with the words "Give Chimps A Helping Hand."
"The hand symbolizes the one that either helps or hurts the chimps," she said. "It's also representative of how similar human and chimp DNA is … and that chimps are being affected by human-related factors including hunting and disease."
Liu and Robinson's posters will be among the 22 works that will be displayed at the Houston Zoo on Oct. 4 and 10.
Presented by the Houston Zoo and UH Graphics Alumni Program (UHGAP), "Mane Event" offers visitors conservation learning opportunities and will spotlight star students. The event kicks off at 6 p.m. in the Houston Zoo Mashihara Pavilion. During the event, scholarships will be presented to UH graphic communications students. Admission is free but a $10 donation at the door is encouraged. With this donation, visitors may cast their ballot for their conservation effort of choice. Proceeds are split between the zoo's conservation efforts and the UH's graphic communications program and scholarships. This event also will showcase posters designed by members of the community that will be auctioned at the Goodall lecture. The UH students' posters will not be available for purchase. For more details, visit the UHGAP Mane Event site.
"An Evening with Jane Goodall" is the featured event at the Houston Zoo Wildlife Conservation Gala on Oct. 10. The event begins at 5:30 p.m. in the Mashihara Pavilion and includes dinner, animal experiences, a silent auction and presentation from noted anthropologist Goodall. For details, visit the event's website.
"Projects like the ones that will be on display at these events show how design can be used for social good. They also show the kind of work being produced at UH," Beckett said. "For our students, this is just one project that shows how their talents can be used to address and communicate an important message."
The UH School of Art's graphic communications program prepares student designers through an intensive curriculum focused on graphic design methodology, research and theory. It offers both Bachelor of Fine Arts and Master of Fine Arts degrees. For more information, visit the program's website.  
---