Dance fans soon will sample the works of several rising choreographers at the University of Houston.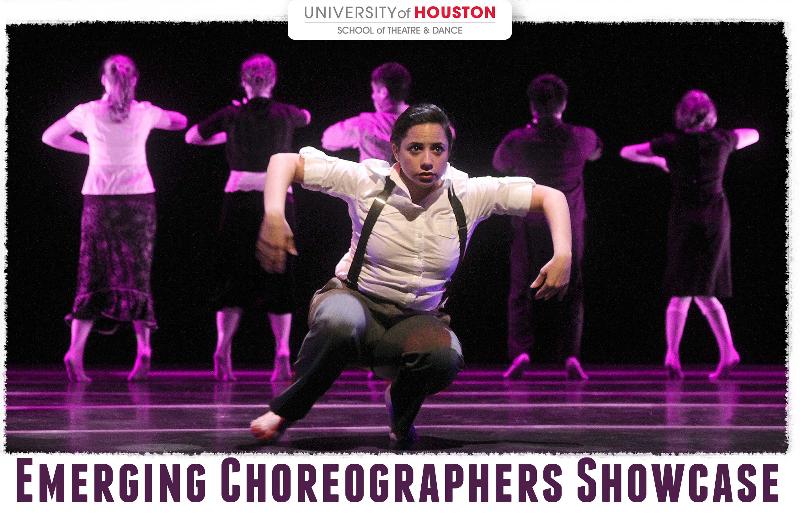 UH's Emerging Choreographers Showcase is among Houston's most anticipated dance events and spotlights the talents of students from the university's acclaimed School of Theatre & Dance. This year's event runs Dec. 6 – 8 at UH's Jose Quintero Theatre.  All performances begin at 7:30 p.m. Tickets are $12 and $10 for students.
Ali DiNunzio, Nadia Dosal, Katie Trevino, Stephanie Sermas and Erica Henderson are among the show's featured student choreographers. In addition to developing new dance works, they will oversee the event's production (lighting, design) with guidance from UH School of Theatre & Dance faculty members Karen Stokes, Teresa Chapman, Becky Valls, Toni Valle and Jonathan Middents.
Works to be performed include Henderson's "S.I.R.," a performance featuring seven dancers that addresses the power of faith during one's personal journey. Another work that will be presented is Dosal's "Agape," a performance focusing on the challenges individuals face when coming out. Additional works include an untitled piece from DiNunzio that juxtaposes classical and experimental movements, and Sermas's "Blood Pressure" that explores human adversity.
The Emerging Choreographers Showcase has been a launching pad for innovative pieces that also have been performed at professional festivals including the Houston Fringe Festival and Big Range Dance Festival.
"The Emerging Choreographers Showcase serves a dual purpose of giving students the experience of realizing their works in a full-fledged professional production while introducing student dancers and choreographers to the Houston dance community," said Toni Valle, UH dance instructor. "The UH School of Theatre & Dance has a reputation of feeding choreographers and dancers into the professional community. Almost every company in Houston and several national companies boast UH alumni."
UH is the only university in Houston to offer a bachelor of arts degree and teacher's certification in dance. Components of UH's dance program include the Center for Choreography, University Dance Theatre (student organization) and the UH Dance Ensemble (the university's pre-professional dance company). For more details on UH's dance program and upcoming performances, visit its website. 
---