Ludwig Van Beethoven's musical legacy has loomed large for more than two centuries. The composer overcame hearing loss to create some of classical music's most iconic works. According to historians and authors, he may have struggled with much more than hearing loss.
Based on letters written by the composer, some researchers have theorized that Beethoven may have suffered from bipolar disorder.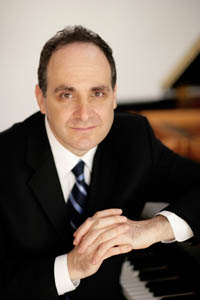 Noted psychiatrist and concert pianist Richard Kogan will discuss the composer and perform his works during the lecture/concert "Beethoven: Creative Genius and Psychiatric Illness" Nov. 9 in the Honors College Commons (second floor of the M.D. Anderson Library). A reception begins at 5:30 p.m. and Kogan's presentation kicks off at 6:30 p.m. Following his lecture and performance, Kogan will take questions from the audience. To RSVP, visit the event's website.
Kogan's lecture/concerts explore the role of music in healing and the influence of psychological factors and illness on the music of composers such as Mozart, Chopin, Schumann, Tchaikovsky, Rachmaninoff, Gershwin and Bernstein.
"To many, Beethoven is the quintessential example of the mad genius…of the tortured artist," Kogan said. "I prefer to view him as the ultimate example of the quality of resilience…of the capacity to overcome obstacles…to transcend limitations."
Kogan was trained musically at the Julliard School of Music and received his psychiatry training at Harvard College and Harvard Medical School. He completed his psychiatry residency and an academic fellowship at NYU.
As a pianist, he has earned praise from The New York Times ("eloquent, compelling and exquisite playing") and The Boston Globe.
Kogan has a private practice of psychiatry in New York City and is affiliated with Weill Cornell Medical College as co-director of its Human Sexuality Program. He also is co-chairman of the recently established Weill Cornell Music/Medicine Initiative.
Kogan's lecture/performance is the result of a collaboration between M.D. Anderson Cancer Center, Baylor College of Medicine and the Medicine & Society Program in the Honors College.  
"A hybrid lecture and performance from Richard Kogan perfectly captures the spirit of the Medicine & Society Program," said William Monroe, dean of the Honors College and director of the program.  "We hope that this will be the beginning of a 'Medicine and the Arts' series with a number of partners from UH and the Texas Medical Center."
---