The dental clinic at UH is only available to students, faculty and staff at the University of Houston main campus. It is not open to the general public. For more information, or to make an appointment, call 713-380-9475.
Dental care may not be on the minds of many college students … that is, until they get a toothache, or need their wisdom teeth taken out. Dental emergencies can happen anywhere and anytime. But students, faculty and staff at the University of Houston don't have to go far to get these issues taken care of by a dentist.  The university opened an on-campus dental clinic in 2011.
"To be one of the first in the country, not only in Texas, is just incredible," says Floyd Robinson, assistant vice president for student health and wellness. "I am finding the University of Houston is one of the first in the country to have a dental clinic we can offer to our students."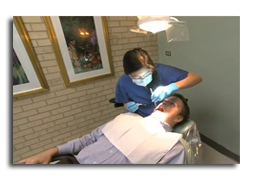 Robinson has overseen the university's health center for more than 15 years. He says students have consistently expressed an interest in getting dental care on campus. But most universities that offer dental services only do so through an affiliation with a dental school, something that UH does not have.
"What I asked was, 'If we build it will you come?'" says Robinson. "We built it and they came, and they continue to come. We opened our dental clinic in spring 2011, and immediately we had a six-week waiting list."
Discounted services such as cleanings and wisdom tooth extractions— and even cosmetic services such as whitening and Invisalign® teeth straightening.
"They are students, they have a lot on their plates. They've got to study, and you don't' want to have anything that is going to pop up and catch them by surprise when they have something really important going on," says Brandy Bannister, D.D.S., a dentist in the clinic.
Faculty and staff also can take advantage of the dental clinic, which accepts insurance and offers discounted prices and plans to those without it. Robinson says it was important to the university that the services be affordable. The program has caught the attention of other institutions that would like to offer dental services to their own students. 
"I've gotten calls from other schools in Texas, Louisiana and even a school as far away as Nebraska," says Robinson.
"It's always nice to be a part of something fresh and different; and to see it taking form and really start to work out has been wonderful all the way around," says Bannister.
---