Houston is home to numerous diverse communities. While many of these neighborhoods have evolved over the years, others have been slow to respond to the ever-changing physical, cultural and economic landscapes.
This year, University of Houston researchers developed partnerships with four of the city's super neighborhoods – Alief, Golfcrest/Bellfort/Reveille (GBR), Greenspoint and Mid-West – to identify opportunities for growth and positive change. Now, they're sharing their findings in the book "Collaborative Community Design Initiative, No. 2: Islands." They also will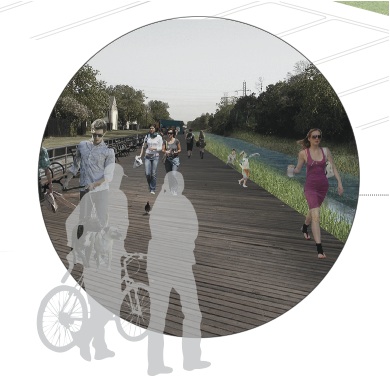 present this work during an exhibition and presentation from 6 to 8 p.m., May 24 in the atrium of UH's Gerald D. Hines College of Architecture (Entrance 18 off Elgin Boulevard).
Susan Rogers, architecture professor and director of UH's Community Design Resource Center, architecture professor Rafael Longoria, students and researchers explored these neighborhoods and met with community groups to learn more about each area's challenges and issues. They then developed specific strategies designed to benefit residents in these communities.
"We titled the book 'Islands' because one of the characteristics that these neighborhoods share is that they're divided by land uses and user groups," Rogers said. "For example, in Greenspoint, there's a sharp divide between the people who work there and the people who live there. They're very different demographically. And in Golfcrest/Bellfort/Reveille, there are all of these islands of planned residential subdivisions with no physical connections to each other."
Challenges faced by neighborhoods include limited commercial development to accommodate increased populations. Greenspoint, for example, has a mall but few grocery stores or pharmacies. Among the research team's proposal was to incorporate a grocery store into one of the vacant spaces within Greenspoint Mall. Researchers also suggested that the mall host a community center that could serve the area's increasing youth population.
"In 1990, Greenspoint had 2,500 residents under 18. Today, the community has 14,000 residents under the age of 18," Rogers said. "While new parks have been developed in the area, very few Greenspoint apartments have recreational amenities for kids, so a community center could fill a void."
Another challenge for some of these communities is that residents have few pedestrian paths connecting them with key areas. For Golfcrest/Bellfort/Reveille, Rogers' team suggested a series of pedestrian bridges over Sims Bayou that would connect neighborhoods to community amenities, parks, schools and shopping areas. Another proposal focuses on using existing drainage and utility easements as pedestrian routes to link one of the neighborhood's recreational areas, Dow Park, with area schools and multi-family housing.
To address population density, the CCDI researchers presented the idea of incorporating functional programming and housing within major public spaces. For the Alief area, they proposed adding senior living facilities, multi-family housing and community/health services near the area's popular strip malls and shopping centers. The addition of residential and community programming would accommodate Alief's increasing population and facilitate a sustainable, pedestrian-friendly neighborhood, Rogers said.
Other issues facing these communities are underutilized spaces. Rogers cites METRO's Hillcroft park and ride facility near the Mid-West neighborhood as an area that can perhaps better serve residents. The parking lot, she said, is unused on the weekends and during the evening and could host programming such as a farmer's market, food truck plaza or outdoor movie theater. Likewise, Bering Ditch, Mid-West's three-mile drainage easement, can be formalized as a walking path and supplemented with playgrounds, food truck zones or a community garden.
The Collaborative Community Design Initiative was started in 2009. As part of UH's Community Design Resource Center, the program builds relationships between communities, UH, and experts in urban design, real estate and community development. CCDI's previous project and book "Corridors" focused on the Greater Third Ward, Harrisburg/Manchester, Independence Heights and Greater Heights. Every other year, CCDI will focus on four new Houston neighborhoods. For more details on CCDI or the Community Design Resource Center, visit http://superhouston.wordpress.com/.
###
---