Voice is an important component to the craft of acting.  Ask Dylan Paul.  He recently graduated from the Actor Training Program at the University of Houston School of Theatre and Dance.  He also is a recipient of a 2012-2013 Fulbright Fellowship to study dialects and accents. 
"I'm going to go to Trinidad and Tobago to look at these voices, and I'm going to see how they connect to their rich oral history and their unique approach to performance—English-speaking Carnival," Paul said.  "My interest in dialects started as an undergraduate when I decided that I wanted to spend the rest of my life, not just working on theater, as I'd already known, but approaching it from a vocal standpoint."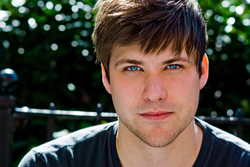 Paul will spend 10 months in Trinidad gathering samples of the unique English dialect and accent spoken there.  While in the twin islands, he will learn from scholars in the Carnival Studies graduate program at the University of the West Indies and apprentice with Mas (masquerade) performers. Paul also plans to share his voice and speech expertise with the local youth through The Trinidad Theatre Workshop. 
One tool that has harnessed his passion is the International Dialects of English Archive (IDEA).  The free, online database (created by his former professor at the University of Kansas, Paul Meier) contains samples and scholarly information about various English dialects.  Used by professors, students and actors, the database will be recreated by Paul, with samples he has collected—from UH, across the U.S. and a few other countries—and to make it searchable.
"My first recordings were in 2003, then I worked with Jim Johnson (of UH), and he really got me into it again, to know what the sounds are as exactly as you can," Paul said. "Approaching an acting text from the perspective of a voice is an interesting way to do it, but also dialects and accents inform your acting world differently."   
The Actor Training Program, directed by Professor Jack Young, is rigorous two-year program designed to prepare actors to work for leading regional theaters in major markets. Acting, voice, speech, stage combat and movement skills are honed through extensive studio work and performances in UH productions.
"Dylan possesses incredible drive and knows what he wants, so he dives into everything headfirst and commits fully—even though he has several irons in the fire at once," said Jim Johnson, associate professor of voice and dialects at the UH School of Theatre and Dance.  "Because of this, he does quite well with many different focuses.  His challenge, in fact, is that sometimes he has to say 'no' to wonderful opportunities.  It's a good problem for him to have!"
The Fulbright U.S. Student Program awards scholarships to U.S. graduating seniors, graduate students, young professionals, scientists and artists selected through a national, merit-based competition for study and research abroad. Academic fields include the social sciences, humanities and the sciences.  Since 1995, there have been 13 UH students awarded with Fulbright scholarships. 
Since its establishment in 1946 under legislation introduced by the late U.S. Sen. J. William Fulbright of Arkansas, the Fulbright Program has given approximately 300,000 students, scholars, teachers, artists and scientists the opportunity to study, teach and conduct research, exchange ideas and contribute to finding solutions to shared international concerns.  
---