Actors Dennis Quaid, Brett Cullen, Cindy Pickett and Robert Wuhl learned their craft under the tutelage of University of Houston professor Cecil J. Pickett. Soon, these star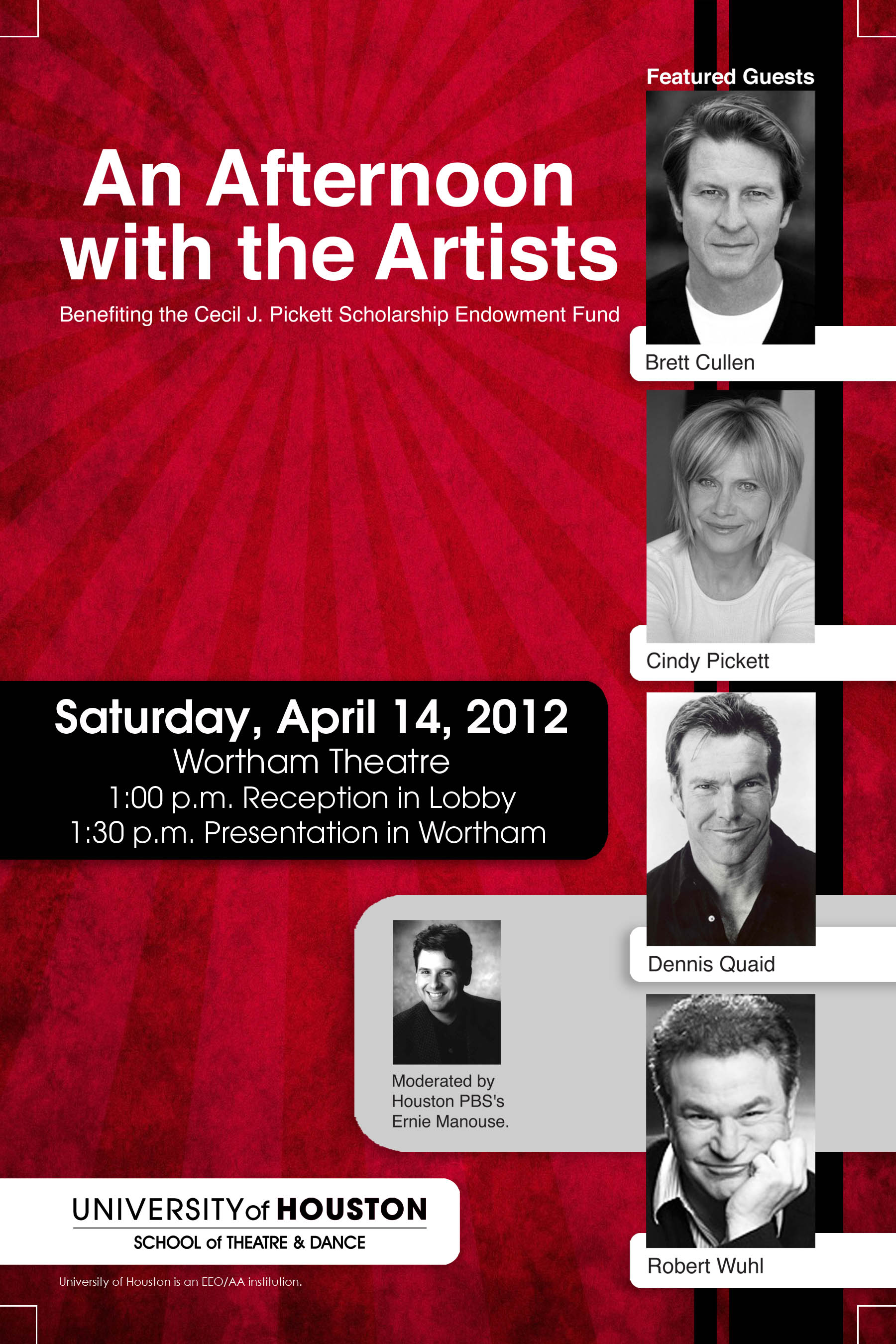 alums will return to the university to celebrate his legacy and talk theater.
UH will host "An Afternoon with the Artists" on April 14 in Lyndall Finley Wortham Theatre (Entrance 16 off Cullen Boulevard).  A reception kicks off at 1 p.m. in the theater lobby. The presentation will begin at 1:30 p.m. in the theater and will be moderated by Houston PBS' award-winning television host and producer Ernie Manouse.
"An Afternoon with the Artists" benefits the Cecil J. Pickett Scholarship Endowment Fund. Tickets are $60, $40 and $20. They can be purchased at the Wortham Box Office or by calling 713-743-2929.
"Cecil's life was focused on training young artists for the profession. He touched hundreds of lives and produced many prolific actors," said Steven Wallace, director of the UH School of Theatre & Dance.
Pickett taught theater at UH from 1970 – 1988. During this time, he directed plays at UH, as well as productions for the Houston Shakespeare Festival. Before joining the UH faculty, he taught theater at Bellaire High School and Houston Baptist University. Pickett died in 1997 at age 74.
Quaid studied under Pickett at both Bellaire High School and UH. He rose to fame through performances in Oscar-winning films such as "Breaking Away" (1979) and "The Right Stuff" (1983).  Since those early hits, he has appeared in more than 50 movies. In 2002, he was lauded for his supporting role in "Far From Heaven," earning an Independent Spirit Award and New York Film Critics Circle Award. In 2010, Quaid was nominated for Emmy, Golden Globe and Screen Actors Guild Awards for his portrayal of Bill Clinton in "The Special Relationship" (2010).
Since 1979, Cullen has appeared in numerous films and TV shows. Recent performances include roles on series such as "Justified," "The West Wing," "Lost," "Burn Notice," "The Mentalist" and "Private Practice." Audiences also will recognize him from films such as "Apollo 13" (1995) "The Replacements" (2000) and "Ghost Rider" (2007).
Wuhl's screen debut was in the 1980 comedy "Hollywood Knights" (opposite Tony Danza, Michelle Pfeiffer and Fran Drescher). He later appeared in blockbusters such as "Bull Durham" (1988) and "Batman" (1989). From 1996 – 2002, he wrote and played the title character in HBO's "Arli$$." As a writer, he earned two Emmy Awards for co-writing the 1990 and 1991 Academy Awards with Billy Crystal and others.
Cecil Pickett's daughter Cindy Pickett is recognized for her role as the matriarch in the comedy classic "Ferris Bueller's Day Off" (1986). She has appeared in many television and film roles including the critically acclaimed TV mini-series "I Know My First Name is Steven" and NBC's "St. Elsewhere."
---