It's a common scenario that plays out daily at pharmacies and retailers nationwide— people struggling to find a pair of glasses or magnifiers to improve their sight. Often, when they can't find a solution over the counter, they don't look any further for help, but low vision rehabilitation may be an option when corrective lenses aren't.
A host of diseases can affect a person's vision, from cancer to macular degeneration to diabetic retinopathy. The result can be low vision, or chronic, irreversible vision loss that's not correctable by standard glasses, contacts, corrective surgery or medicine.  As the prevalence of age-related vision loss continues to increase, the Center for Sight Enhancement (CSE) at the University of Houston (UH) has a unique vision and focus of its own: to help people with low vision live more independent and productive lives. The center's director Dr. Stanley Woo. OD, M.S., and his team help patients optimize what vision they do have.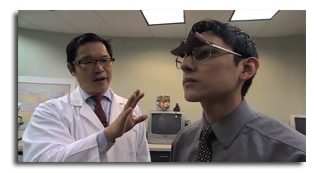 "Often times there is remaining functional vision in the side that can be captured and optimized to help people function in their daily activities," says Woo, clinical associate professor in the UH College of Optometry.  "Our primary goal is to help people of all ages maximize that functional vision that is still remaining. Terms like 'legal blindness' can do a disservice at times, because there is a lot of good remaining vision still working."
Located in the UH College of Optometry's University Eye Institute, the CSE is one of the premier centers of its kind in the Southwest United States. The center focuses on two areas of sight enhancement: assistive technology and rehabilitation. Woo says even in cases where all medical interventions have been exhausted for a patient, vision rehabilitation can still be an option.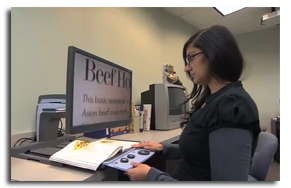 "Rather than treat the disease that's managed by another provider, we work on the rehabilitation in a multidisciplinary manner to make sure that vision works as best as possible," says Woo. "We can enhance how they are able to use that vision and increase their independence, maximize their quality of life and really function at a high level."
According to Woo, a team of faculty, optometry students and occupational therapists provide a "comprehensive rehab model." The team also trains patients on assistive technology and optical devices, even driving rehabilitation. Using spectacle-mounted telescopes, Woo says people with visual impairment can obtain a driver's license with restrictions, while maintaining their independence. 
"We have a comprehensive training program we use in conjunction with occupational therapy and driving rehabilitation to ensure that they are safe, confident and effective." 
Every student in the UH College of Optometry rotates through the CSE to gain experience in direct patient care. Woo says in this case, seeing is believing— for the patient and the provider.
"Seeing the impact of vision rehabilitation on patients really does carry forward as these students go out into their careers and their practice," says Woo.
The CSE is open to the public as a referral clinic. Patients should talk to their primary eye care provider if they are interested in learning more about a referral.
For more information and resources regarding low vision, visit http://www.opt.uh.edu/uei/services/lowvision/resources.cfm.
---