The discourse on fertility is expansive and heated, covering areas of public policy on families, health, wages and personal relationships. Women traverse a long road of facts and opinions before deciding on when and in what circumstances to start their families.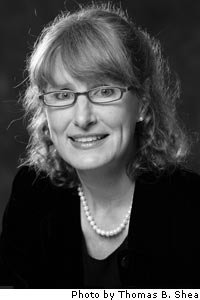 In her frequently cited book, "Ready: Why Women are Embracing the New Later Motherhood," first released in 2007, Elizabeth Gregory, professor and director of the Women's, Gender and Sexuality program at the University of Houston, relayed the results of her research on the growing trend for women to wait until their 30s and 40s to start families.  Reasons cited by those she interviewed include: finishing higher education degrees, establishing themselves in careers, traveling and finding the right partner.
In the updated preface to the forthcoming new edition of "Ready" (due out Aug. 7), Gregory explores the progression of the trend over the past five years, bringing the statistics up to the present:
Today, nearly 40 percent of all babies born in the U.S. have moms 30 years old or older
Births fell among women of all age groups between 2007 and 2010, except those 40-44 (births to teen moms and women 20–24 fell 17 percent and 16 percent, respectively, while births to women 40-44 rose more than 6 percent
One in every seven births in the U.S. is to a mom over 35, as is one in every 12 first births
"These data indicate that women see advantages to delay," she notes, "whether by a little or a lot, in spite of ongoing media myths. U.S. women have been learning from one another's examples that delay often makes sense, operating as a shadow benefits system for families in our current family-unfriendly work system, which often punishes women for having children."  New studies indicate that college-educated women earn substantially more across their careers for every year of delay, and that women who delay family until they're 35 or older report being much happier than they were before their children were born, long term, while their younger mother counterparts report the opposite.
Gregory has compiled a list of "Myths About Later Motherhood" for the Council on Contemporary Families. Her list explores misinformation that may impede a woman from making an informed choice.   Specifically, she challenges the myths that:
Those who delay motherhood past the age of 35 are unlikely to conceive
Those who conceive after 35 put their children at risk
Health issues and a lack of energy will prevent older parents from enjoying their kids
The Council on Contemporary Families, based at the University of Miami, is a nonpartisan, nonprofit association of family researchers and practitioners across disciplines. Its mission is to provide accurate information about how American families are evolving, along with the latest research about how to help today's diverse families build on their distinctive strengths and minimize their vulnerabilities.
"The trend toward delayed marriage and motherhood, which is largely good news, has been greeted with dire predictions about how educated women are pricing themselves out of the marriage market and cheating themselves out of the chance for a family," said Stephanie Coontz, CCF director of research and public education. "Elizabeth's research is a perfect example of the council's mission. She strips away myths and exaggerations about the consequences of postponing motherhood, laying out the benefits and risks in a balanced, well-researched manner that allows women and men to make more informed decisions about their family planning.
---