The University of Houston Green Building Components (UHGBC) is an applied research program in the Gerald D. Hines College of Architecture where faculty-led teams develop green building components and sustainable technologies from concept to commercialization.
"At UHGBC, we design, develop and commercialize green building components across the architecture, engineering and construction industries," says Joe Meppelink, UHGBC director. "Really, our mission is to bring green technology into the built environment."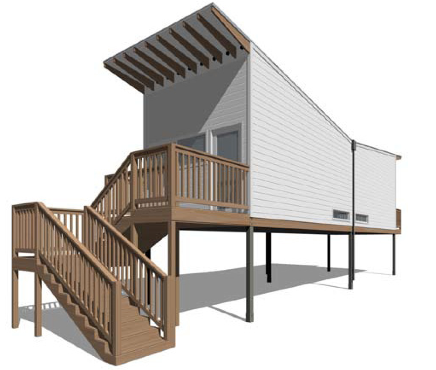 Of the 16 research projects UHGBC has funded in the past three years, Meppelink says eight are in the beginning stages of commercialization and four projects are pending patents. Projects include the Solar Powered Adaptive Container for Everyone, or SPACE, an up-cycled, power generating international shipping container paired with a flexible solar panel rack system that can fold up transport. It has applications from weather-related disaster relief and medical triage to becoming a construction field office or security kiosk. Z-fab housing is also in development. Z-fab will manufacture affordable prefab accessory dwelling unites with a net zero or net positive energy. The units are suited for added living space, vacation destinations, personal retreats and even rapid provisioning of temporary housing in disasters.
"We think the way to have the biggest effect, the most broad reaching effect in the realm of sustainability is to address the fundamentals of the components of architecture in the built environment," says Meppelink.
Each year, UHGBC showcases its existing projects and new research at an annual expo.
"UHGBC Expo is an annual event every fall," says Meppelink. "What we do is show the research work over the past year as it's come to fruition over the course of a year."
The UHGBC is supported by the Houston Endowment and the Meadows Foundation. Meppelink says UHGBC not only aims to foster the creation and growth of new green technology companies in the Houston area but also serves an important role in teaching sustainable design concepts to architecture students. The Green Building Components course challenges students to develop the skills necessary to engage in applied research projects as active participants, and to hone the skills required to bring green technology from concept through to commercialization.
"We're teaching students to not just design but to invent and commercialize and to recognize the inherent value in the design process," says Meppelink.
---