The Environment, Energy & Natural Resource (EENR) Center at the University of Houston Law Center is hosting a mock U.S. Supreme Court argument on climate change tort liability on Jan. 19 at noon in Krost Hall on campus.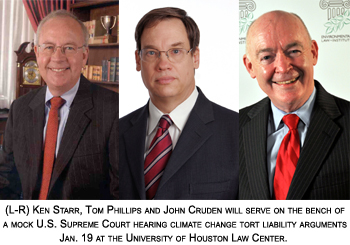 "The initial battles over climate change tort liability are already taking place in the federal courts, and these verdicts could have enormous implications for both our economy and our future environment," said Professor Tracy Hester, director of the EENR Center. "This mock oral argument will help highlight how the U.S. Supreme Court might answer some of the fundamental legal questions that will govern these lawsuits."
The bench includes Baylor University President Ken Starr, retired Texas Supreme Court Chief Justice Tom Phillips, and John Cruden, president of the Environmental Law Institute. Richard Faulk, chairman of Gardere Wynne Sewell's Litigation Section, and David Axelrad, a partner at Horvitz & Levy, will present arguments. An extended analysis and discussion with student input will follow the mock session.
The Honorable Judge Starr is a former federal appellate judge, U.S. Solicitor General and federal independent counsel heading investigations during the Clinton Administration. He was appointed dean of the Pepperdine University School of Law in 2004 and named president of Baylor in 2010. The Honorable Justice Phillips served on the state high court from 1988–2004 and is now a partner in the Austin office of Baker Botts LL.P. Cruden is a former acting assistant attorney general for the U.S. Department of Justice's Environment & Natural Resources Division. He currently heads the Environmental Law Institute, an independent research and education center in Washington, D.C.
The free event is open to the public and has been approved for 2 hours of Continued Legal Eduation (CLE) credits by the State Bar of Texas. Please RSVP to jeberle@central.uh.edu.
Who:  Tom Phillips, retired chief justice of the Supreme Court of Texas; Ken Starr, president of Baylor University and former independent federal prosecutor; John Cruden, president, Environmental Law Institute; Richard Faulk, Gardere Wynne Sewell; and David Axelrad, Horvitz & Levy.
 What:  A Mock U.S. Supreme Court Argument on Climate Change Tort Liability
When:  Jan. 19, 2012, Noon to 2 p.m.
Where:  Krost Hall, University of Houston Law Center
For more information:
Contact Carrie Criado, 713-743-2184, cacriado@central.uh.edu; or John T. Kling, 713-743-8298, jtkling@central.uh.edu.
EENR Director Tracy Hester on 2011 Climate Change Litigation:
About the University of Houston Law Center
The University of Houston Law Center is the leading law school in the nation's fifth-largest legal market. Founded in 1947, it is a top-tier institution awarding Doctor of Jurisprudence (J.D.) and Master of Laws (LL.M.) degrees. The Law Center is fully accredited by the American Bar Association and is a member of the American Association of Law Schools.
About the University of Houston
The University of Houston is a Carnegie-designated Tier One public research university recognized by The Princeton Review as one of the nation's best colleges for undergraduate education. UH serves the globally competitive Houston and Gulf Coast Region by providing world-class faculty, experiential learning and strategic industry partnerships. Located in the nation's fourth-largest city, UH serves more than 39,500 students in the most ethnically and culturally diverse region in the country.
---