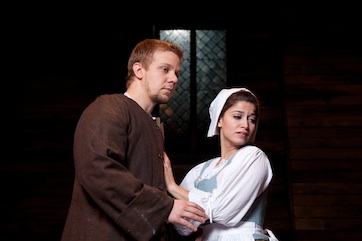 The University of Houston's School of Theatre & Dance (SOTD) has long been regarded as one of the best-kept secrets in the city. Each fall and spring, the school delivers professional quality productions showcasing the talents of faculty, students and noted guest artists.
Now, the school is being recognized for its contributions to the city's theatrical landscape. In the Houston Press' inaugural Houston Theater Awards, it was named "Best College Theater." Its faculty and students will be on hand to accept honors during the awards ceremony Sept. 28 at Phoenicia MKT Bar in downtown Houston.
In its recent awards roundup, the publication lauded the school for recent performances of "The Cripple of Inishmaan" (directed by Steve Wallace, School of Theatre & Dance director) and "The Crucible" (directed by visiting artist Gus Kaikkonen).
"It's exciting for the school to be named 'Best College Theater,'" Wallace said. "I am thrilled that the work of our faculty and students is being recognized as they follow in the footsteps of many well-known performers who graduated from UH, including Dennis Quaid, Jim Parsons, Brett Cullen and Robert Wuhl…to name just a few."
Winners were selected by a panel of Houston Press theater critics and are listed online on the Houston Press website and in the publication's most recent print edition.
For its 2012 – 13 season, the UH School of Theatre & Dance will continue to deliver a blend of classic and contemporary works. The school's performance season begins Sept. 28 with Caryl Churchill's "Serious Money" directed by Christopher Owens. Other plays to be performed Bertolt Brecht's "Mother Courage and Her Children," George Fedeau's "Paradise Hotel" and William Shakespeare's "As You Like It." For more details on the 2012 – 13 season, visit the school's online schedule.
In addition to the school's award, SOTD professor Claremarie Verheyan earned a "Best Costumes" award for her work with Stages Repertory Theatre, and UH Honors College senior Andy Ingalls was named "Best Trouper" for his role in "Rum and Vodka."
 The UH School of Theatre and Dance produces professional plays, dance concerts, studio productions, a new play festival and school shows through the Theatre for Young Audiences program. The school performs in the Wortham Theatre and the Quintero Theatre. The Houston Shakespeare Festival is a professional project of the school, which is produced each summer at Miller Outdoor Theatre. The UH School of Theatre & Dance offers bachelor's and master's degrees in theater and teacher certifications in dance and theatre. Its graduate program consists of a master of arts in theatre and master of fine arts in theatre with specializations in acting, directing and design. Faculty includes Pulitzer Prize winning playwright Edward Albee, Tony Award-winning playwright Mark Medoff, Tony Award-winning producer Stuart Ostrow and Tony-nominated designer Kevin Rigdon. Among the greats who have taught at the school in previous years are Lanford Wilson, Sir Peter Hall and Jose Quintero. For details on UH's School of Theatre & Dance, visit www.theatredance.uh.edu.
---