Students from a variety of majors devoted their time to serious research at the University of Houston (UH) this summer, delving into a number of complex projects during an intensive 10-week program.

With a record number of 56 participants this year, the Summer Undergraduate Research Fellowship (SURF) program is open to UH undergraduates from all colleges and disciplines. SURF provides students with a concentrated, full-time research experience under the mentorship of faculty members, with each student receiving a $3,500 stipend.

"I hope that in the future this work will be one more step in the fight against disease," said biology student Scott Moncrieff. "The SURF program is an excellent springboard for students interested in doing research."

Studying under assistant professor Preethi Gunaratne, Moncrieff's project centers on trying to figure out why stem cells become the types of cells that they become. Specifically, by understanding why stem cells turn into bone and skin cells, they can then progress to seeing if scientists can influence the process using nucleic acids, similar to DNA.

"I became interested in doing research like this when I found out that it could be used to fight cancer," Moncrieff said. "My dad died from cancer in 2007 after a 12-year battle, and that really motivated me to try to do all that I could to fight it, going forward. This particular project stems directly from that original motivation."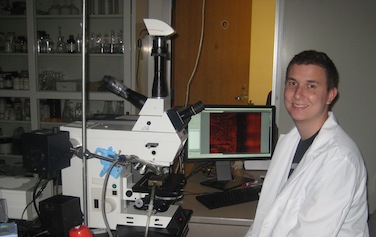 Another student tackling a serious medical issue is chemical engineering major K.C. Schuette, under the mentorship of professor Peter Vekilov. Schuette's work focuses on sickle cell anemia, a disease that converts normal hemoglobin in red blood cells into mutated hemoglobin through polymerization, which has been shown to be the primary cause of the disease. For this project, he is working to design a platform for a data measurement and collection system, called a microfluidic device, for studying the kinetics of this polymerization.

"If the polymerization can be stopped or controlled, then the disease can be," Schuette said. "To do this, we must study the polymerization process that our microfluidic device will be able to do. Ultimately, we hope this will allow a vaccine to be administered that can prevent this disease."

Lessons these SURF students learn include the importance of setting goals, the value of teamwork and the ability to apply their book knowledge to real-life problems.

"I've learned that good science is not made in a day," said biology junior Jaime Carrillo. "I learned to establish long-term goals and to develop them with discipline, commitment and dedication. I'm grateful to have had the opportunity to work in a team, contributing to the group's scientific advancement."

Lead poisoning and the retina are at the heart of Carrillo's research, focusing on lead and its effect on retinal development. Working with professor Donald Fox, Carrillo hopes this research will contribute to increasing the awareness about the adverse effects of low-level lead on the developing retina and visual system.

Under the direction of assistant professor Jokubas Ziburkus is another promising project. Hoping his team's research into basic neural mechanisms provides new context to help later researchers understand and cure a variety of diseases, biology student Matthew Styskal is specifically looking into how Dravet syndrome, a genetic disorder causing seizures in young children, works.

"Sufferers of Dravet syndrome currently have no real cure, and the disease is sometimes fatal," Styskal said. "Our research could find a specific neural defect that could be targeted with a drug."

Also majoring in biology, Jihad Harmouche is working in the lab of associate professor Gregg Roman on better understanding how we perceive the world around us through the olfactory system. By studying sense of smell in fruit flies, his project involves trying to understand how the olfactory systems of animals can distinguish between odor molecules that are structurally and chemically very similar. With this knowledge, he says scientists can better understand how certain aspects of animal behavior are tied to sense of smell. Applying this to humans, he envisions one day being able to build technology, such as more accurate and less expensive sensors, that helps us better understand the physical world surrounding us.

"The SURF program has been very rewarding, I've learned a lot about the scientific process through participation," Harmouche said. "I have designed and carried out experiments, analyzed the data and thought about how the results support our hypothesis. Through SURF, I am able to take the knowledge I learned from science classes and apply it to my experiments."

At the end of the program, the SURF students will be prepared to present research posters on their substantive projects at UH's annual Undergraduate Research Day Oct. 11. For more information, visit http://uh.edu/honors/undergraduate-research/uh-research/urday2012/index.php.
###
About the University of Houston
The University of Houston is a Carnegie-designated Tier One public research university recognized by The Princeton Review as one of the nation's best colleges for undergraduate education. UH serves the globally competitive Houston and Gulf Coast Region by providing world-class faculty, experiential learning and strategic industry partnerships. Located in the nation's fourth-largest city, UH serves more than 39,500 students in the most ethnically and culturally diverse region in the country. For more information about UH, visit the university's newsroom.

To receive UH science news via e-mail, sign up for UH-SciNews.

For additional news alerts about UH, follow us on Facebook and Twitter.


---