When you think of children with sleep problems, you may conjure images of crying infants, but about 70 percent of children under age 10 have a sleep problem a few nights a week, according to Candice Alfano, University of Houston associate professor of psychiatry and director of the Sleep and Anxiety Center for Kids, or SACK.

"When a child isn't sleeping well, parents and siblings aren't sleeping well," says Alfano. "These are very common problems."

Occasional fears or worry, such as when children start a new school year, are not necessarily cause for concern and can work themselves out, but Alfano says anxiety or fear that persists, causes chronic sleep disruption or limits a child's ability to function may signal a need for intervention.

"Families really struggle with these issues, because it is a family issue," says Alfano. "These can impact everybody and make life very difficult."

SACK offers low-cost assessment and treatment for kids with persistent sleep and anxiety problems. The center operates on a sliding scale based on family income.

"Just like adults can worry too much, kids can worry too much," says Alfano. "What we know is that worry tends to go along with a host of sleep problems and poor sleep."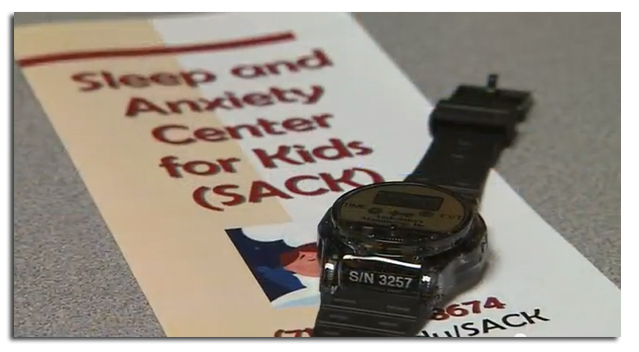 The relationship between chronic worrying and sleep disruption in children is one of the clinical research areas for Alfano and her colleagues at SACK.  SACK researchers are trying to find the most effective treatments for these problems.

"We will talk to families on the phone to determine that this is the right place for the child to be seen, and if we do feel like this is the appropriate place, children come in with parents where we meet for a comprehensive assessment," says Alfano.

An assessment includes in-depth family interviews, as well as the use of a device that looks like a wristwatch but collects important data while kids are sleeping, or in many cases, should be sleeping but can't.

"We are able to download and use an algorithm to learn how often the child is experiencing sleep problems and exactly what the nature of those problems are," says Alfano.

SACK not only provides treatment to children, but it also is a training ground for doctoral students who are becoming clinical psychologists. They learn how to use the most effective therapies available.

"That allows us to provide these low cost services based on the best evidence we have for what is effective in treatment," says Alfano.

For more information, visit the SACK website.
---