The University of Houston's School of Theatre & Dance has a long tradition of producing successful show business professionals. This fall, six esteemed alums are returning to the university to pay tribute to the program that helped launch their careers.
"Legacy: A Celebration of the UH School of Theatre & Dance" will showcase the talents of former students Brett Cullen, Brent Spiner, Robert Wuhl, Sally Mayes, Sharon Montgomery and Billy Stritch. These stage and screen stars will deliver songs and stories in tribute to the university and its long-running theater school at 8 p.m., Sept. 7, in UH's Lyndall Finley Wortham Theatre.
Tickets for this event are $25 and $50 and can be purchased at www.theatredance.uh.edu or call 713-743-2929. Proceeds will benefit scholarships for UH theater students.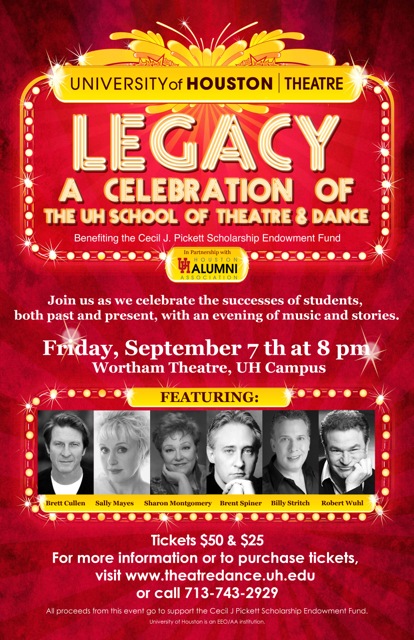 Since 1979, Cullen has appeared in movies and TV shows. His most recent film is "Dark Knight Rises." Later this year, Cullen will appear in the remake of "Red Dawn" and "Guilt Trip" (opposite Barbara Streisand and Seth Rogen). Movie audiences also will recognize him from his roles in "Apollo 13" (1995), "The Replacements" (2000) and "Ghost Rider" (2007). Other performances include television roles on TV series such as "Justified," "The West Wing," "Lost," "Burn Notice," "The Mentalist" and "Private Practice."
Spiner is recognized for his role as the android Data in the "Star Trek: The Next Generation" television and film franchise. He also starred in films such as "Independence Day" (1996), "I Am Sam" (2001) and "The Aviator" (2004). Spiner also has appeared in several Broadway and off-Broadway productions including "Sunday in the Park with George" and  "1776."  Spiner played himself on CBS hit series "The Big Bang Theory" (starring another UH alum Jim Parsons) and recently guest starred on "Warehouse 13" on the Syfy network.
Wuhl's screen debut was in the 1980 comedy "Hollywood Knights" (opposite Tony Danza, Michelle Pfeiffer and Fran Drescher). He later appeared in blockbusters such as "Bull Durham" (1988) and "Batman" (1989). From 1996 – 2002, Wuhl wrote and played the title character in HBO's "Arli$$." As a writer, he earned two Emmy Awards for co-writing the 1990 and 1991 Academy Awards with Billy Crystal and others.
Mayes began her singing career in Houston and ultimately became a star on Broadway. Her performance as Winona Shook in "Welcome to the Club" earned her a Theatre World Award, and she received Drama Desk Award nominations for roles in "She Loves Me," "Pete n' Keely" and "Urban Cowboy." Mayes also was nominated for a Tony Award for "She Loves Me." She appeared in films such as "City Hall" (1997) and television shows "Sex and the City" and "Law and Order: Criminal Intent." Mayes regularly performs on the concert and cabaret circuit in New York.
This event will reunite Mayes with her former musical partners Montgomery and Stritch. The jazz trio Montgomery, Mayes and Stritch was a favorite on the local and regional jazz scenes. Mayes left the group and was replaced by Rebecca Plant.
Montgomery has performed as a singer in Houston and across the country since 1975. Her talents have taken her to the JVC Jazz Festival at Carnegie Hall to share the stage with legend Mel Torme (alongside Stritch and Plant). She also lent her voice to renditions of the National Anthem at professional sporting events. Her recordings include "Let's Misbehave" and "Live at Ovations."
After his stint with the jazz trio concluded, Stritch was discovered playing at a piano bar by Liza Minnelli. He collaborated with her on live international performances and the recordings "Gently" and "Minnelli on Minnelli: Live at the Palace." Stritch also co-wrote Reba Mcintire's 1994 Grammy Award-winning hit "Does He Love You?" His solo recordings include "Billy Stritch," "Waters of March: The Brazilian Album" and "Jazz Live."
 The UH School of Theatre and Dance produces plays, dance concerts, studio productions, a new play festival, and school shows through the Theatre for Young Audiences program. The school performs in the Wortham Theatre and the Quintero Theatre. The Houston Shakespeare Festival is a professional project of the school, which is produced each summer at Miller Outdoor Theatre. The UH School of Theatre & Dance offers bachelor's and master's degrees in theater and teacher certifications in dance and theatre. Its graduate program consists of a master of arts in theatre and master of fine arts in theatre with specializations in acting, directing and design. Faculty includes Pulitzer Prize winning playwright Edward Albee, Tony Award-winning playwright Mark Medoff, Tony Award-winning producer Stuart Ostrow and Tony-nominated designer Kevin Rigdon. Among the greats who have taught at the school in previous years are Lanford Wilson, Sir Peter Hall and Jose Quintero. For details on UH's School of Theatre & Dance, visit www.theatredance.uh.edu.
###
About the University of Houston
The University of Houston is a Carnegie-designated Tier One public research university recognized by The Princeton Review as one of the nation's best colleges for undergraduate education. UH serves the globally competitive Houston and Gulf Coast Region by providing world-class faculty, experiential learning and strategic industry partnerships. Located in the nation's fourth-largest city, UH serves more than 39,500 students in the most ethnically and culturally diverse region in the country. For more information about UH, visit http://www.uh.edu/news-events/.
---