There's not much to see along  the southern waterfront of Baytown, Texas. The area at the base of the Fred Hartman Bridge (off Highway 146) is among the few areas along Galveston Bay that remain undeveloped.
While city leaders ponder the possibilities for this site, University of Houston architecture students are working on designs that may inspire future development and have a lasting impact on the city.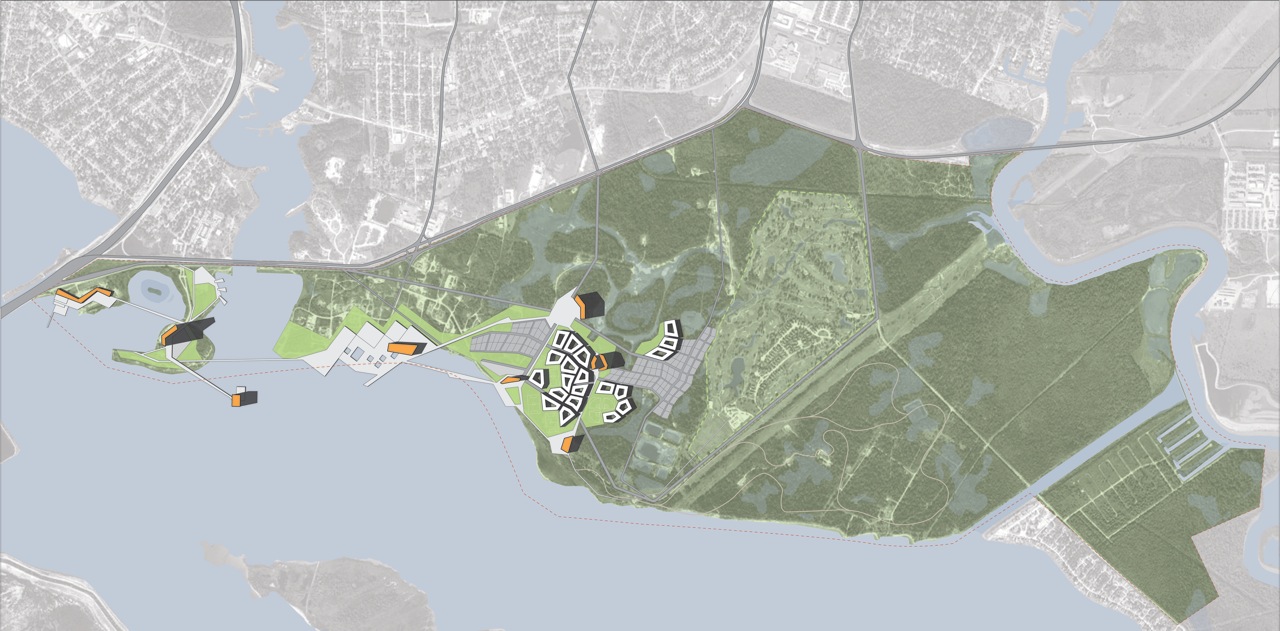 Led by UH architecture professor Susan Rogers, 10 students are exploring a range of possibilities for the waterfront. Split into three teams, the students researched the site and are creating urban designs and architectural plans to illustrate possible uses for this land. Among the concepts being developed are public parks, hotels, residential areas, an event center and theater. Each student team is focusing on a separate segment of the waterfront, and all designs will be integrated into a single publication detailing the entire project.
On April 24, students will present their ideas to Baytown's assistant to the city manager Nick Woolery and city planner Andrew Allemand in UH's Gerald D. Hines College of Architecture. On May 10, they will travel to Baytown to deliver presentations to the mayor and city council.
 "This project shows city leaders the kind of programming that can fill the void on the waterfront and perhaps get people thinking about the possibilities for this site," Rogers said. "There are many unique aspects to this site. They should be treated as special and transformed into functional amenities."
One of the distinctive elements of waterfront is the presence of working oil pumpjacks that are visible from the shore. To use these industrial mechanisms in a design, one team is highlighting them in its plans for a museum and shops. Instead of trying to conceal these seesawing giants, the team plans to spotlight them within its design.
One of this particular team's members noted how the project has allowed her to view urban design in a new way. Fifth-year architecture student Karen Brenner said she used to observe the designs of individual buildings, but this project has expanded her perspective.
"It's helped me think of cities in a new way," she said. "I'm looking at how the community comes together through how streets, buildings and public spaces are laid out. This project brought that to my attention."
Other student teams are following this lead. Fourth-year architecture student Nicholas Massaad's team also is using the water and the view of oil rigs. His team is designing a mixed-use commercial space with shops and restaurants. The space would be complemented by the waterfront's natural attributes including trails and bluffs. Preserving such resources is essential in creating viable programming for this area, he said.
"We have to integrate buildings with water and nature," Massaad said. "Our designs should reflect the experiences that people will have here…walking through tree-lined trails, smelling the salt water of the Gulf and having commercial spaces that would help the economy and further engage visitors."
One of the project's goals is to stimulate new ideas on how to effectively develop this area. It's also aimed at providing students with an opportunity to apply their creative talents and critical thinking skills in a real-world setting.
"We've never done anything like this before," Massaad said. "It's helping us develop strategies for an area's infrastructure, as well as designing specific spaces. The team environment also is helping us grow as urban designers and architects. We're able to divide responsibilities and learn how to compromise on a final product."
The idea for this project came about during the recent Mayor's Institute on City Design. The three-day conference was hosted by UH's Community Design Resource Center (directed by Rogers) attracted mayors from the western U.S. region for discussions on city design. Attending mayors brought urban design challenges from their respective cities to this conference. Baytown Mayor Stephen DonCarlos attended the event and offered insight on the city's southern waterfront. Rogers saw this as a perfect opportunity for both the city and her students.
"Projects like this are valuable," Rogers said. "It's worthwhile to bring a project into the studio that has practical relevance. They allow our students to be both innovative and pragmatic. And they may ultimately influence what happens in our cities in the future."
---