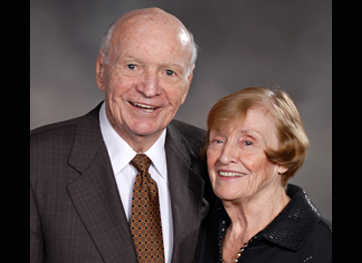 The University of Houston has lost a dedicated philanthropist and passionate scholarship supporter. Howard L. Terry passed away Friday in Houston. He was 95 years old.
Terry has made the dream of higher education a reality for 2,600 students across the state of Texas through the Terry Foundation, an education non-profit dedicated to providing four-year scholarships to Texas residents for attendance at one of eight public universities in Texas. Hundreds of UH students have attended school as part of the Terry Scholars program – the largest private source of scholarships in the state. The Terry Foundation invests more than a half million dollars in UH students each year, providing scholarships for anywhere from 45 to 60 students in the UH Honors College annually. Currently there are more than 50 Terry Scholars attending the University of Houston as part of the program, and 800 students are being sponsored statewide.
"The generosity of Mr. Terry to privately fund the education of so many Texas students is unprecedented," said Renu Khator, president of the University of Houston. "The impact he's had on student success at the University of Houston and across the state of Texas is profound. Mr. Terry will be greatly missed. We are grateful for the lasting legacy he leaves behind."
The Terry Foundation was established in 1986 by Terry and his wife Nancy. Terry Scholars are students who demonstrate that they have the capacity to be future leaders, but need financial assistance to attend college. The scholarship allows them to graduate without debt. UH student and Terry Scholar Blake Harms said he and his family are "eternally grateful" for the opportunity that the Terry Foundation scholarship afforded him and his sister, Natalie.
"What the Terry Foundation offered us was freedom from worry of financial problems while attending university," said Harms. "This, I would consider, is the best gift anyone has ever given me. The foundation has changed my life and I will never forget what an amazing person Mr. Terry was and how generous he and the foundation have been to myself and to my fellow Terry Scholars."
Despite incredible success in business ventures throughout his life, Terry said "the Terry Foundation is the most important thing I've done in my life, because it's enabled me to help more people than I would have ever been able to help otherwise."
UH senior and Terry Scholar Bianca Perez says Terry's impact is not confined to the students he's directly helped. Part of becoming a Terry Scholar, she says, is paying it forward when you're finished with school.
"All he wanted from us in return was to go out and give back to the community in any way we can. Isn't that incredible?" said Perez. "He gives us full-ride scholarships to amazing universities and all he asks in return is for us to give back or pay it forward. That's the legacy he is leaving behind: he instilled a generosity and compassion in his scholars that so many people in this world lack. If there is anything I want people to know, it's that he's my hero!"
For UH junior marketing major Colleen Seitz. It's not just her that was impacted by a full scholarship from the Terry Foundation—her brother and sister also obtained their degrees as Terry Scholars.
"Mr. Terry did not just give financial assistance - he gave hope, family and inspiration," said Seitz.
Harms couldn't agree more. He will graduate with a degree in Computer Science in May.
"The foundation has changed my life. He will be dearly missed, but his legacy will live on for generations. He set up a foundation fueled by the leadership of past scholars and loving, caring, generous people," said Harms.
Harms' sister, Natalie, says she'll never forget his generosity.
"I am confident his legacy and foundation will always be a beacon of hope for students trying to afford college, as it was for me," she said.
A reception and memorial to honor the life of Howard Terry is scheduled for 4 p.m. Wednesday, April 25, in the Ballroom at River Oaks Country Club, 1600 River Oaks Boulevard, Houston, Texas 77019.  
In lieu of flowers, the family suggests donations to the Terry Foundation, 3104 Edloe, Suite 205, Houston, Texas 77027, or the charity of your choice.  
###
---