Bicycles sit propped against the living room wall.  Children's art adorns the refrigerator.  In the corner are stacks of board games watched closely by two pet frogs in a glass tank.  This image of family life could be anywhere in Houston, but it's happening at the Moody North Tower student residence hall at the University of Houston.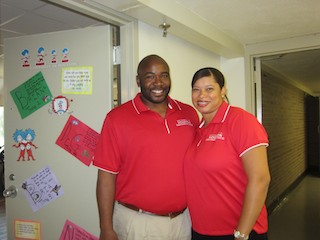 "Students in college for the first time will need support and encouragement as they learn the skills that will help them succeed at the university," said Imani Goffney, assistant professor of curriculum and instruction at the UH College of Education.  She is a new faculty-in-residence, living with her husband, Brian, and two daughters in the residence hall. "The way we see our roles is to be a resource to all the residents in North Tower, to help them be successful in school."
Goffney and her family will stay in the residence hall for a year. Through regular interaction, educational and fun activities, the Goffneys aim to be visible reminders to students that everything students do is about their academic success.  Students have responded, seeking them out (calling them "Dr. G" and "Mr. Brian") with questions about their majors, approaching their professors and developing study habits. 
Goffney's husband, Brian, a social worker for adolescents and teens and a UH alum (and former resident of Moody North Tower), agrees. 
"The goal is to create community," he said. "Many of the students have never lived away from home, but now are meeting people from around the world. They need help transitioning, not only from an academic perspective, but from a life perspective."
The Faculty-in-Residence program began in 2010 with faculty moving into the student residences at Moody Towers, Cougar Village and the Calhoun Lofts.  Lyle McKinney, assistant professor in the College of Education, is the newest resident of Law Hall in the Quadrangle residences.  His research interest includes the effective management of colleges and universities and how that translates to student success.  One area he will focus on during his tenure as a faculty-in-residence concerns sophomore students.
"A lot of programs are designed for freshmen, but sometimes, as an institution, we tend to forget about the sophomores," he said.  'With retention and graduation rates being such an important issue, our goal is to design a program that provides UH sophomores with the tools and resources they need to succeed."  
Working with the UH department of student affairs, McKinney first will examine services provided to freshman and compare that to what is provided to sophomores.  The idea is in its infancy and McKinney says some programs may already exist on campus to serve this population.  He envisions a checklist for sophomores to keep them focused on moving ahead: meeting with advisers a certain number of times per year, taking a career assessment test to help them identify an appropriate major and becoming engaged in campus activities or study groups. 
"There's been more research lately about sophomore students because of data that shows the proverbial 'sophomore slump' often leads to departure from the institution," he said. "I want to look at our UH data and see what are the factors that may contribute to them leaving and see what we can do to help."
He's hopeful the Faculty-in-Residence program will be part of the solution.        
"Learning isn't confined to the classroom.  For me, the in between spaces of the cafeteria or the laundry room or the gym are opportunities for conversations that can help students learn and grow. I'm there to be a resource."
---