Many on-the-job injuries are preventable. That fact stuck in the minds of University of Houston industrial design students as they prepared projects focused on workplace safety.
Recently, three of these projects took top honors during the National Institute for Occupational Safety and Health's (NIOSH) "Prevention Through Design" conference in Washington, D.C. Their mentor, EunSook Kwon also was recognized at this conference. Kwon, an associate professor in UH's Gerald D. Hines College of Architecture, received the conference's "Excellence in Teaching" award.
"The best part of being an educator is seeing your students receive awards like this," Kwon said. "It was a great moment. For me, my award was only made possible through their achievements."

The student grand prize went to "Spinal Cord," a design for a safer, more efficient extension cord to be used on construction sites. Designed by industrial design students Jennie Macedo, Ya-Han Chen and Juan Jimenez, "Spinal Cord" proposes a safer, durable, easy-to-use extension cord. In creating a practical design, students researched traditional extension cords used on contemporary work sites. Their findings included statistics from the U.S. Consumer Safety Commission, which indicated that 50 percent of fractures, lacerations or sprains at work sites are caused by tripping over extension cords. They also observed a lack of resilience in traditional cords, which caused breaks, tears or exposed wires. They also observed these cords' tendency to become easily tangled.
Macedo, Chen and Jimenez developed a cord design that is segmented to retain its original structure (avoiding tangling), easily rolls into a circular carrying case and is resistant to damage or strains. Also, users would be able to only extend portions of the cord from the case as opposed to unraveling all of it. The cord would remain flat on the ground without coiling up.
Among the other finalists was "Beehave," a design for a modified beekeeper's uniform. Students Rick Salinas, Meredith Tucker and Anna Ho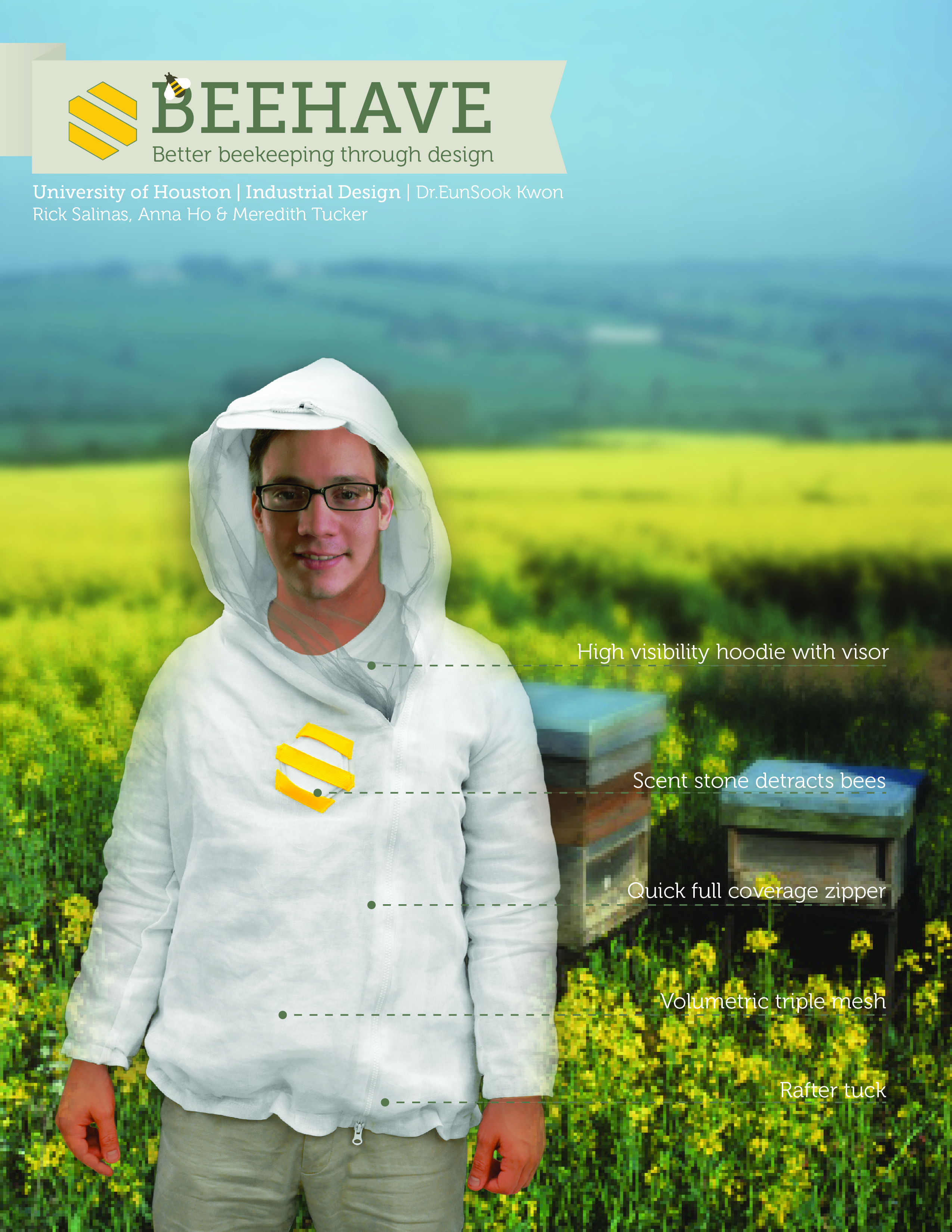 developed a concept for a jacket that provides beekeepers with enhanced protection against stings. Students learned that the protective gear used by beekeepers is time consuming to put on, cumbersome and hot. Taking cues from zip-up hoodies, the students designed a lightweight, yet protective, jacket with hood and screened mask. The jacket also contains a section for scented (citronella, peppermint) stone to deter bees.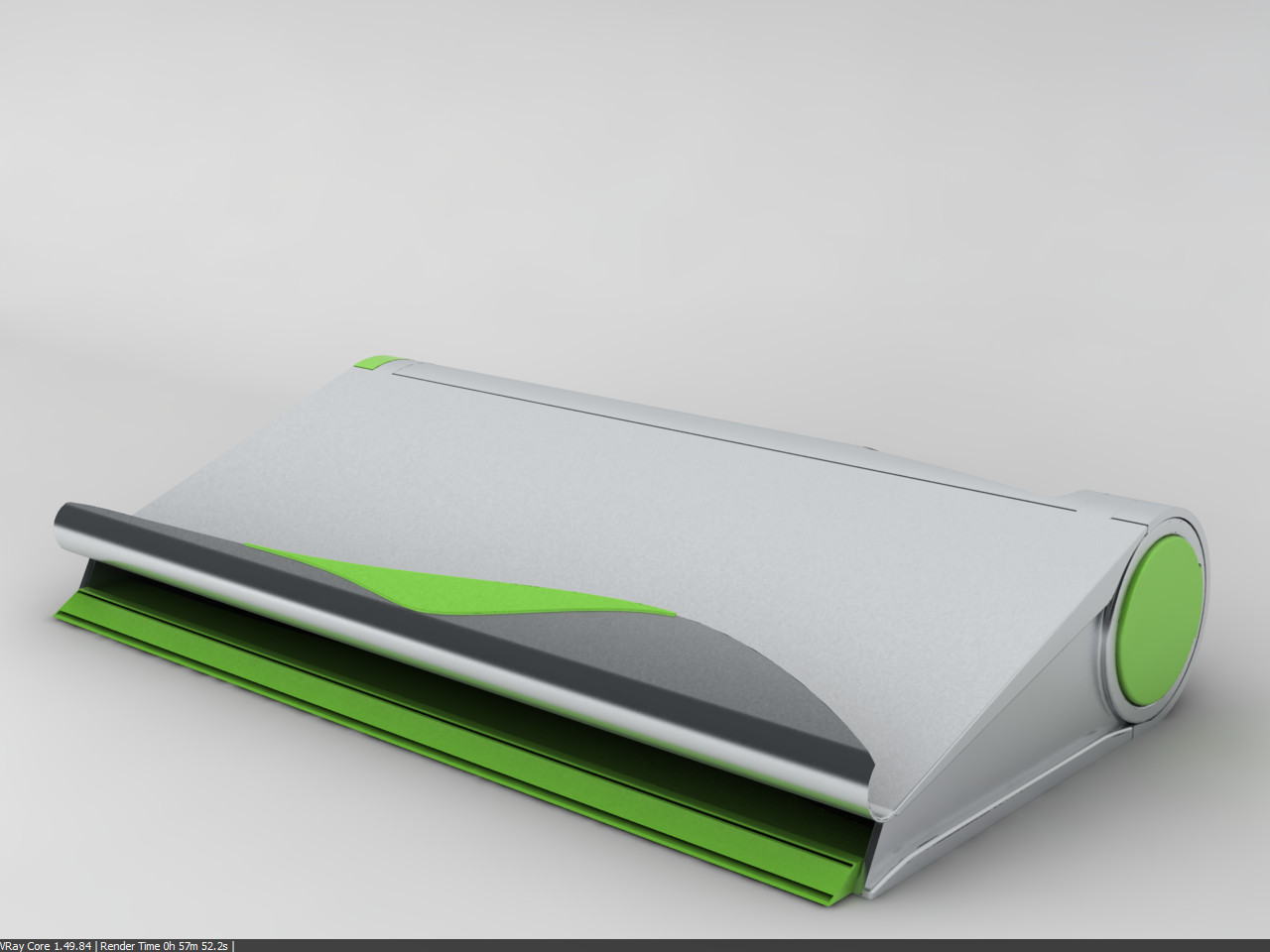 The other runner-up was "Out of Sight" by Kellee Kimbro, Ryan Pursel, Alan Nguyen and Thi Vu. This project was focused the design of a device that provided a safer way of removing glass particles from work sites. By visiting glass industry sites, students learned more about the dangers posed by such particles (cuts, lacerations, lung disease).  The design for "Out of Sight, Out of Mind" proposes an aluminum dustpan with a built-in fan from a Dyson vacuum cleaner. When particles are swept into this pan, they would be sucked into it. It would be lightweight and can be used to dispose of large and small glass particles.
Projects were designed and developed in spring 2011 as part of UH's industrial design third year studio. During the "Prevention Through Design" conference, student teams participated in poster sessions and delivered presentations that were judged by a panel of reviewers.
"It's great to see that the three finalists at the 'Prevention Through Design' conference were teams from our industrial design program," Kwon said. "Everyone was dedicated to their work and utilized excellent time management skills. They raised the bar of excellence and really deserve these awards."
UH's Industrial Design program in the Gerald D. Hines College of Architecture grooms aspiring designers through a calculated curriculum program. First-year students learn design fundamentals in the classroom and the studio. During their second year, students familiarize themselves with industrial design history, materials, manufacturing methods and visual communications skills. Third-year students conduct research and apply their findings to design projects. By their fourth year in the program, students are prepared for careers through curriculum addressing diverse design issues, design ethics, business practices and strategies.
In addition to its curriculum, UH's Industrial Design program connects students with world-renowned designers through extensive workshops and special lectures. It also hosts an annual exhibition to showcase students' projects.
In addition to industrial design, the Gerald D. Hines College of Architecture offers bachelor's and master's degrees in a variety of disciplines. These include architecture, space architecture and interior architecture. Faculty members include esteemed professionals in the architectural community, as well as award-winning academic veterans. Facilities include studio spaces, the new Materials Research Collaborative, computer labs and the Burdette Keeland Jr. Design Exploration Center. To learn more about the college, visit http://www.arch.uh.edu/.
---