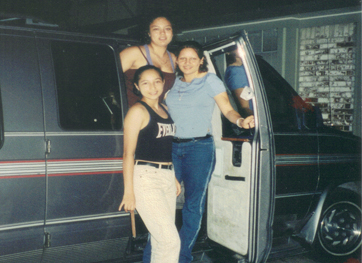 Eleven years ago, University of Houston (UH) student Yuribia Munoz, her mother and two sisters embarked on a journey from the state of Veracruz, Mexico, to their new home in the United States. They were seeking a better education, and now Yuribia Munoz says she is living the American dream. She graduated from UH this month, but her journey is far from over.
"When I came here, I knew I could go to college here, but I also knew I would have to work to pay for classes. It was expected that I do that," said Munoz.
After working, attending classes and immersing herself in undergraduate research projects, the next phase of Munoz's education will not carry quite the financial burden.  Munoz, department of Earth and atmospheric sciences and UH Honors College graduate, recently earned fellowships through the National Science Foundation (NSF) Graduate Research Fellowship Program (GRFP) and the Merage Foundation for the American Dream.
The prestigious awards total more than $110,000 in stipends and cost-of-education support over the next three years. Munoz will begin her master's degree in geology at UH in the fall. The GRFP fellowships, which provide $30,000 of support each year for three years, are awarded to outstanding graduate students pursuing research-based master's and doctoral degrees in NSF-supported disciplines. The American Dream Fellows are nominated by the foundation's 22 partner universities and awarded on factors including academic record, leadership and their potential to make an important contribution to America. Only 10 American Dream Fellowships are awarded across the country each year. Fellows are granted $10,000 a year for two years.
Both fellowships will allow Munoz to dedicate her time to graduate research in geology, something the former business and Spanish major knew little about until she took a required science class early in her career at UH.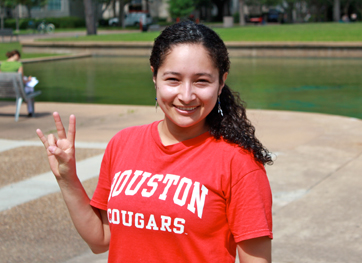 "I took geology with professor Michael Murphy from the department of Earth and atmospheric sciences." said Munoz. "He was a great professor, and he got me hooked into geology. I started liking it and decided to change my major."           
Her interest in issues related to global warming led to the topic of her senior honors thesis, which took her to the Antarctic Peninsula. Munoz spent two months conducting research on sediment deposition and the biologic communities to analyze how glaciers are retreating in the Antarctic Peninsula. Under the mentorship of professor Julia Wellner, research assistant professor, Munoz will further that research as a graduate student. She will bring together geography and biology to look into how the sediment and the fauna in the Antarctic fjords are related, if at all.
"I am exceptionally proud of Yuribia's recent accomplishments, but not all that surprised either," said Prof. Wellner.  "The NSF Graduate Research Fellowship really is a a ticket into almost any graduate program in the country. The fact that Yuribia is choosing to stay at UH for her graduate work is a testament to how much our university has to offer."
According to Yuribia, she "is living the American dream, it's fantastic. I have found amazing people at the university, and it's incredible how much help you can get. You just have to ask."
Munoz's pursuit of education that began with that long trip back in 2000 is far from over. Following the master's program, she plans to get her doctoral degree and continue in the field of research. As for her mother and sisters, they "are amazed. My mom is very happy."
---