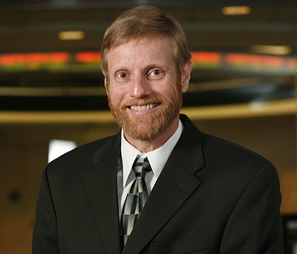 The ongoing unrest in the Mideast, now centered in Libya, is having a volatile effect on the world's oil industry, with prices climbing - sometimes dramatically. Craig Pirrong, a professor of finance and energy markets at the University of Houston, keeps track of the developments that influence the world's oil industry and shape energy policy. Pirrong, director of the Global Energy Management Institute at UH's Bauer College of Business, can provide expert analysis on the latest developments in the energy world. Reach him at: 713-743-4466 or cpirrong@uh.edu. You can also contact media relations representatives Laura Tolley at 713-743-0778 (work), 713-471-3401 (mobile) or ljtolley@uh.edu;  or Shawn Lindsey at 713-743-5725 (work), 806-535-0545 (mobile) selindsey@uh.edu. For broadcast media, UH offers liveshot/talkback capabilities through a studio at KUHT HoustonPBS, located on campus.
Visit the UH Global Energy Management Institute at http://www.bauer.uh.edu/UHGEMI/ 
On Wednesday, (March 9) Pirrong discussed the latest developments regarding oil prices. Following are some excerpts: 
Q: What are some of the key factors currently driving the price of oil?
A: There's an old saying, "Stuff happens."  There's a corollary to that, stuff happens all at once. So oil prices have been going up rather dramatically since September of last year and a lot of that was driven by recovering economies, not just in the U.S. but in places like China. … On top of that there is strong demand. We have just recently had a big supply shock and there is fear there will be bigger supply shocks. Libya has gone off line, that has lost 2 percent of world production, but there are fears that the unrest could spread to places like Saudi Arabia, which would account for 10 percent of world production, which would be a big deal.
Q: How high do you believe oil prices will rise?
A: If unrest in Saudi Arabia or Kuwait became really disruptive, that would potentially lead to $200 oil. If it looks like the unrest is going to be restricted to places like Libya and things settle down elsewhere, I think we will see prices back off a bit to under $100.
Q: What does $200-a-barrel oil look like?
A: Five-dollar gasoline. It may be even more expensive. Five-to-six dollar gasoline per gallon. Not pretty. 
Q: What do rising prices mean for the nation and for Texas?
A: The overall economy is probably going to grow half of a percent slower than it would have otherwise due to Libya. If something bad happened in Saudi Arabia, conceivably the economy could go back into a recession. … Higher oil prices and higher energy prices will benefit Texas relative to other states in terms of exploration, production activity and in terms of business going through Houston, Dallas and other place in Texas. That will be beneficial, it won't necessarily help every Texan, but Texas will be less heavily impacted than other parts of the country. 
Q: If Saudi Arabia went offline, would that be a worst-case scenario?
A: It's not the worst case scenario _ Saudi Arabia, plus Kuwait, plus whatever going offline would be. But the biggest country that would have the biggest impact? That would be Saudi Arabia.
Q: Is that a key area to watch?
A: That is the one thing to keep your eye on. Libya has already been taken into consideration, that's been written off into the near- to medium-term, so people are looking for evidence of instability or problems in Saudi Arabia, Bahrain, Kuwait, all of the Persian Gulf countries, because if that goes south, we would have some major problems.
Q: What does this mean for the alternative energy industry?
A: Higher prices of oil make alternative forms of energy more competitive than they would be with low prices of oil, so this is beneficial to alternative sources of energy. The problem is what we really need oil for is transportation fuels. And all of the kinds of alternative sources you think about, or most of them, are for generating electricity and that is not a viable alternative source for powering our cars. Yes, it is something of a boon for alternative energy, but not as big as you might think.
Q: What are some of the misconceptions about oil prices?
A: (One) big misconception relates to whether by just increasing production in the U.S. we can really insulate ourselves all that much from world shocks. The fact is that oil is a world commodity and that means that shocks elsewhere (affect) the price that we pay regardless of whether we produce 100 percent of our oil or 50 percent of it.
###
Professor Pirrong has been featured as an expert by major print and broadcast media outlets worldwide. For assistance interviewing him, you can also contact Jessica Navarro at jnavarro@bauer.uh.edu or 713-743-4348.
---