Thanks to University of Houston architecture professors, more green thumbs will be popping up in urban areas.
The innovative minds at UH Green Building Components have developed a solution for growing gardens in apartments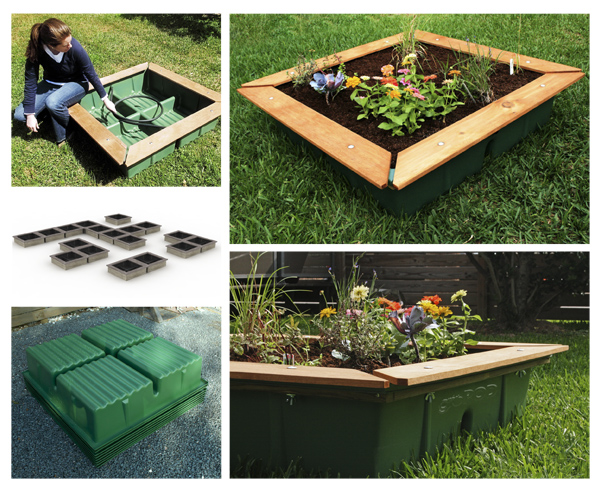 and non-green business and residential spaces. UHGBC's GroPOD is a raised bed, modular gardening system that can easily be transported and used anywhere.
GroPOD units are 4 feet by 4 feet, made from high-density polyethylene (HDPE) plastic and have a soaker hose attachment that creates an internal irrigation system. An optional wood trim is available and can be easily attached the unit.
"In designing this product, we had to rethink how raised bed gardening systems are made," said Joe Meppelink, director of UHGBC. "What we designed is a raised bed that can be moved. Most raised bed systems have to be dismantled and rebuilt, but the GroPOD can be dragged and dropped anywhere. They're also built to last 30 years if not longer."
GroPODS made their public debut during Earth Day Houston 2011 at Discovery Green and are now available to the public. Units are currently in use at the community garden for the Volunteers of America (4808 Yale Blvd.). Soon, 120 units will be installed on the rooftop of a new condominium development at Waugh Drive and Hyde Park. For details on the GroPOD, visit www.gro-pod.com.
Other items developed by UHGBC include Solar-Powered Adaptive Container for Everyone (SPACE), a recycled shipping container transformed into a functional work or living space. Recently, UHGBC was tapped by the city of Houston to produce 17 SPACE units for use during emergencies.
Another UHGBC-designed product is the PV-Pod, a water-filled polyethylene vessel used for mounting solar panels on commercial facilities.
UH Green Building Components is the College of Architecture's research initiative to design, develop and commercialize sustainable, renewable building components for the architecture, engineering and construction industries. This effort is funded by nearly $1.4 million in grants from Houston Endowment and the Meadows Foundation. 
To learn more about UHGBC, visit http://www.metalabstudio.com/.
---