University of Houston System Chancellor Renu Khator told Texas House members Thursday the proposed state funding cuts amount to "drastic" reductions that could hurt academic and research programs.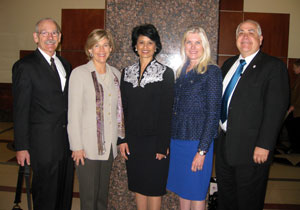 "State funding is the life and blood of the UH System because of the kind of population we serve," Khator testified before a House Appropriations subcommittee hearing. Many students in the UH System need financial assistance, work part- or full-time or face other challenges to getting their degrees.
"These would be very large, very drastic cuts in our budget," Khator said of the proposed state funding reductions proposed in House Bill 1 (HB1).
Khator testified before the subcommittee Thursday morning along with UH-Downtown President Bill Flores, UH-Clear Lake President Williams Staples and Interim UH-Victoria President Don Smith.  UH System Board of Regents Chair Carroll Ray and Regent Mica Mosbacher attended Thursday's hearing. Khator and the three presidents also testified Monday before the Senate Finance Committee.
Under HB1, the UH System's general revenue appropriation would be reduced by $100 million, or 20 percent, for the biennium. The House proposal is more severe than Senate Bill 1, which would cut $81 million from the UH System.
The proposed cuts in HB1 are equivalent to losing 11,500 students, or eliminating 1,520 courses or cutting 375 faculty members system-wide, Khator said.
"We really do want to be part of the solution" to the budget crisis, Khator said, but she said the deep cuts as proposed would hinder the UH System's ability to build on the gains it has made.
"I'm pleading with you to strengthen our hand to continue this course," Khator said.
Rep. Scott Hochberg, D-Houston, the subcommittee's chairman, said maintaining higher education funding also is an economic issue. College graduates generally make more money over their lifetimes than high school graduates, and universities and their research programs are economic generators for their regions.
"This is a jobs issue. This is a technology advancement issue," Hochberg said.
Khator said the UH System has already instituted a number of cost-savings measures and is working to identify other areas where it can reduce spending. But she said the proposed cuts are so severe they could result in a reduction in course offerings, larger classes, additional layoffs and increases in tuition.
"We will look at all of these things," Khator testified.
Khator said the UH System's top goals include improving student success, maintaining affordable access for students and improving its research competitiveness.
"We will do everything possible to protect our students," Khator said. "We will do everything to protect our mission."
She offered real-life examples of how the proposed budgets could directly affect students, including one she identified as Josh, who has two sisters attending UH with the help of financial aid and scholarships. Josh's mother died when he was 9, and his father works in law enforcement.
Josh has a SAT score of 1290 and will graduate from high school in May in the top 3 percent of his class. He would be eligible for financial aid, but the Legislature is proposing dramatic cuts to such assistance.
"Can Josh find his way to college" without a Texas Grant or other financial aid, Khator asked.
Several subcommittee members praised the UH System -- and Khator's leadership -- for its recent accomplishments. Most recently, UH was named a Tier One institution for research by the Carnegie Foundation.
"It's no surprise you've achieved so much in the past two years," said Rep. Michael "Mike" Villarreal, D-San Antonio.
---