Students from a variety of majors are devoting their summers to serious research at the University of Houston (UH), seeking eventual solutions to many serious maladies that include Alzheimer's, high blood pressure and cholesterol, diabetes, alcoholism and anxiety.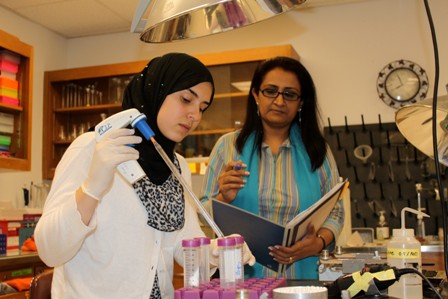 With a record number of 54 participants this year, the Summer Undergraduate Research Fellowship (SURF) program is open to UH undergraduates from all colleges and disciplines. SURF provides students with a concentrated, 10-week research experience under the mentorship of faculty members, with each student receiving a $3,500 stipend.

"The better we understand ourselves, our world and our universe, the more we can use our knowledge to solve seemingly insurmountable problems," said Casey Berridge, a biology junior working with pharmacology professor Jason Eriksen. "I'm looking at individual brain cells afflicted with Alzheimer's that are not functioning properly to see if they have an altered shape that could be causing these problems. This study provides a direct look at how Alzheimer's disease can affect the physiology of individual neurons. In time, along with other studies, we hope to provide more and better options of treatment for people with this debilitating disease."

Working in Eriksen's lab for some time now, Berridge said this project came about as a result of prior collaborations with professor Jokubas Ziburkus' lab in the biology and biochemistry department. Ziburkus also is mentoring a SURF student, Ahmad Aulakh, who will be starting his senior year in the fall with a major in mathematical biology. Aulakh's research concentrates on a particular protein mutation that causes plaque in the hippocampus, which is the part of the brain essential for memory formation and retrieval, and subsequently vulnerable to neurodegenerative diseases such as Alzheimer's.

"Undergraduate research in the field of neuroscience is a unique experience that cannot be demonstrated in any class," Aulakh said. "The experience required me to use the theory learned in class and apply it in practice. Not only did I learn new research techniques, but I also learned details regarding the nervous system that are not taught in class. Being in the lab has also exposed me to the vocabulary used in published papers, which will help me understand subjects better as I move toward higher education."

In studying oxidative stress and how it may cause disorders such as anxiety, hypertension and type 2 diabetes, senior nutrition major Farida Allam echoes this sentiment, saying that "the opportunity to finally apply book knowledge to actual models is not only amazing to experience, but also really helps put everything into perspective." Working under the guidance of professor Samina Salim in the department of pharmacological and pharmaceutical sciences, Allam says, "I believe this research can be beneficial to everyone – young and old – helping the public understand the mechanisms of these disease progressions. If we are well informed about oxidative stress, we are able to take greater preventative steps toward a healthier population."

Another interesting project by a senior biology major is one that could eventually lead to a drug that prevents cholesterol from clumping and clogging an artery. Thomas Frank, who also is a chemistry minor studying under professor T. Randall Lee, is exploring self-assembled monolayers. He is researching why carbon chains pack more densely together when cholesterol is present. His work requires him to synthesize molecules with more than five reactions until they are complete, so he must concentrate intensely to prevent mistakes that could cost him as much as a week of lost time. This work also may eventually lead to developing coatings for metals to prevent corrosion.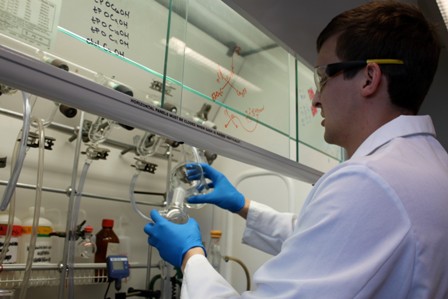 Also worthy of note is a project coming out of the biology and biochemistry department that involves examining how the level of a particular protein in neuron communication alters the responses of the fruit fly (Drosophila melanogaster) to alcohol. Working with professor Gregg Roman, biology senior Vrutant Shah has undertaken the challenging work of using molecular and behavior genetics to dissect the role of a specific protein in producing the preference for alcohol-containing drinks.

"In previous work by Joydip Das in the College of Pharmacy, it has been demonstrated that the unc13 protein can bind alcohol and may be a direct target for the effects of alcohol in the nervous system," Shah said. "Interestingly, similar to people, Drosophilae like to drink alcohol because it makes them feel good. Our work will allow us to better understand if alcohol binding to the unc13 protein is responsible for the effects of alcohol within the nervous system."

In addition to these students from the College of Natural Sciences and Mathematics and College of Pharmacy, a student from the Conrad N. Hilton College of Hotel and Restaurant Management (HRM) hopes her research will one day lead to standardized cleaning methods for hotels. Under the guidance of Jay Neal, her faculty mentor, HRM senior Katie Kirsch is doing research to find the areas that are most prone to contamination in hotel rooms. For more on this story, visit http://app1.kuhf.org/articles/1310760031-UH-Moment-SURF.html.

At the end of the program, the SURF students will be prepared to present research posters on their substantive projects at UH's annual Undergraduate Research Day Oct. 13. For more information, visit http://uh.edu/honors/undergraduate-research/uh-research/urday2011/index.php.
###
Editorial Note: Photos of various SURF participants are available to media by contacting Lisa Merkl.

About the University of Houston
The University of Houston is a Carnegie-designated Tier One public research university recognized by The Princeton Review as one of the nation's best colleges for undergraduate education. UH serves the globally competitive Houston and Gulf Coast Region by providing world-class faculty, experiential learning and strategic industry partnerships. Located in the nation's fourth-largest city, UH serves more than 38,500 students in the most ethnically and culturally diverse region in the country.

For more information about UH, visit the university's Newsroom.

To receive UH science news via e-mail, sign up for UH-SciNews.

For additional news alerts about UH, follow us on Facebook and Twitter.



---