Astronaut Robert Crippen, the pilot of the first space shuttle mission, will be among those gathering at the 18th International Academy of Astronautics Humans in Space Symposium to commemorate the 30th anniversary of the first space shuttle flight.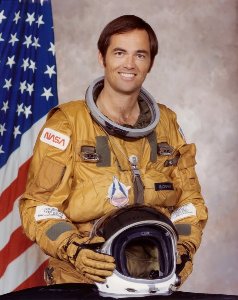 The event begins at 8 a.m., Thursday, April 14 at the Westin Galleria Hotel, Galleria Ballroom.   
"We all held our breath as we watched the Shuttle Columbia glide back to Earth, and shared the excitement of the crew's victory," said William Paloski, UH professor of health and human performance.  "We are fortunate to have Robert Crippen to share his thoughts of that historic day."   
The symposium is hosted by NASA and the University of Houston.   
Crippen will offer his remembrances of that historic day when the space shuttle Columbia lifted off from the Kennedy Space Center in Florida on April 12, 1981with Crippen piloting and John W. Young, as commander.  The mission of STS-1:  Accomplish a safe ascent into orbit and return to Earth for a safe landing.  The reusable space shuttle was completely computer-controlled and a vast departure from previous rocket vehicles.  The 30 years of space shuttle missions have included countless biomedical studies and ushered in a new age in space life science research.   
Crippen's comments will follow a video welcome from President George H. W. Bush and a short history of the shuttle program by Roger Launius, curator of Planetary Exploration Programs for the Smithsonian Institute's National Air and Space Museum.  Additionally, a panel discussion of the space shuttle's contribution to space life sciences will follow as well as a panel discussion on the impact of space flight on the human body.   
A complete symposium agenda is available here http://www.dsls.usra.edu/meetings/IAA/pdf/program.pdf  
Parking is available at the hotel.  Press credentials are available at the registration table, but advance notice is appreciated.  Please contact Marisa Ramirez, mrcannon@uh.edu , 713-743-8152 or William Jeffs, William.pjeffs@nasa.gov , 281-483-5111. 
WHAT: Commemoration of the 30th Anniversary of the First Space Shuttle Flight
           During the 18th International Academy of Astronautics Humans in Space Symposium 
WHEN: 8 a.m., Thursday, April 14  
WHERE:  Westin Galleria Hotel, Galleria Ballroom, http://www.dsls.usra.edu/meetings/IAA/venue/ 
For more information about UH visit the university's Newsroom at www.uh.edu/newsroom
---