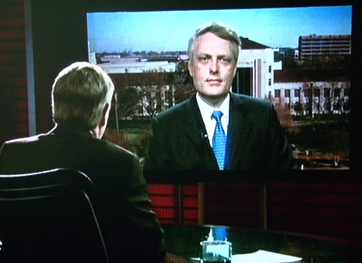 Six states went before the U.S. Supreme Court Tuesday to argue that they have the right to sue energy companies under public nuisance laws for failing to control emissions. The companies and the Obama Administration maintain that is an issue best left to the Environmental Protection Agency (EPA) and not the courts. Tracy Hester is well versed on climate change, environment and energy issues. He is a visiting assistant professor at the University of Houston Law Center and director of UHLC's Environment, Energy and Natural Resource Center. He joined the faculty after serving as a partner at Bracewell & Giuliani and leading its Houston office environmental group for more than 15 years.
On Tuesday, April 19, Hester discussed climate change and potential consequences of the Supreme Court's ruling in this case. Following are some excerpts: 
What is the current state of climate change litigation in US?
Climate change litigation is a booming business in the federal courts.  It's a broad field that includes challenges to EPA rules that would limit greenhouse gas emissions, fights between EPA and states over who has the authority to issue greenhouse gas permits, lawsuits to force the federal government to take additional actions to limit climate change, and tort lawsuits seeking damages from greenhouse gas emitters or injunctions to limit future greenhouse gas emissions.
The Supreme Court heard oral arguments in American Electric Power Co. (AEP) v. Connecticut Tuesday. What is the main issue court is seeking to address?
The main issue is whether the federal courts can hear lawsuits claiming that greenhouse gas emissions are a public nuisance under tort law.  These lawsuits seek either to hold greenhouse gas emitters liable for damages caused by their greenhouse gas emissions or to get a court order that would force them to limit their future emissions.  In the American Electric Power case, six states and three environmental groups have sued several utility companies alleging that the companies' emissions have contributed to climate change.  They argue that these emissions are a public nuisance, just like acrid fumes from a smokestack that damage nearby property.
What are key arguments on both sides? 
The utility companies argue that the federal courts shouldn't hear these cases at all.  They raise three arguments:  first, they claim that the states and environmental groups can't point to any identifiable damage caused by the companies' specific emissions.  As a result, the states and environmental groups would lack standing to bring their claims.  Second, the defendants say that the federal courts aren't equipped to handle the enormous complexity and difficult policy choices required to address climate change.  The companies, as a result, say that climate change is a political question that the federal courts have typically refused to hear.  Last, the utility companies argue that EPA's recent moves to regulate greenhouse gas emissions have preempted or displaced any tort laws that might have allowed the federal courts to act. 
Notably, every federal trial court that has gotten one of these cases has dismissed them based on the political question argument.  One appeals court reversed the trial court's dismissal and ruled that the case had to go to trial - leading to this appeal to the U.S. Supreme Court.  Another appeals court has affirmed the trial court's dismissal, and a third is waiting for the U.S. Supreme Court to decide this case.
Why is this case significant?
This case is significant because it is the culmination of several tort lawsuits filed to hold emitters liable. It is an entirely different way of addressing climate change by using the traditional tort system as opposed to federal regulation of greenhouse gases. If the Supreme Court allows this case to proceed, then federal courts could find themselves in a new role as arbiters in responding to climate change.
Is there any factor or legal precedent that is likely to play a role in the Supreme Court's final decision in the case?
Rather than a legal precedent, court watchers are focusing on the likely votes of specific justices.  In its Massachusetts v. EPA decision that prompted EPA to regulate greenhouse gases under the Clean Air Act, the bulk of the Court split evenly into two factions and Justice Kennedy provided the key swing vote.  In today's case, one of the justices is already out of the picture - Justice Sotomayor heard the American Electric Power in the appellate court before she became a Supreme Court justice.  Of the remaining eight justices, four will likely rule that these lawsuits can't proceed to trial (Roberts, Scalia, Alito and Thomas).  The remaining three will likely rule in favor of these lawsuits (Ginsburg, Kagan, and Breyer).  If Justice Kennedy casts his vote with the minority group of three justices, his vote will produce 4-4 tie.  A tie vote would uphold the appellate court's decision, and the tort lawsuit could then proceed to trial.
To schedule an interview with Hester contact media representatives Carrie A. Criado, 713-743-2184, cacriado@central.uh.edu, John T. Kling, 713-743-8298, jtkling@central.uh.edu, or Shawn Lindsey, 713-743-5725, selindsey@uh.edu.
For broadcast media, UH offers liveshot/talkback capabilities through a studio at KUHT-TV, Houston PBS, located on campus.
Visit the Center for Environment, Energy and Natural Resources at http://www.law.uh.edu/eenrcenter/homepage.html. 
---