Using only cardboard and duct tape to build boats that can be paddled 50 meters across a pool, Houston-area teens will put their physics skills to the test at the Extreme Boating Regatta at the University of Houston (UH) April 23.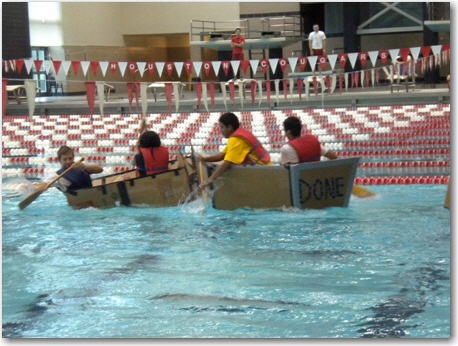 Teams of four from local high schools will spend several weeks applying lessons learned in physics class to build handmade vessels that are buoyant, stable and "seaworthy" enough to row across the university's 50-meter swimming pool in the shortest time possible – without sinking. The fastest and least waterlogged teams will come away with cash prizes, a pizza party and plaques.
The second-annual event is part of the Grand Challenge series sponsored by UH's Houston-Louis Stokes Alliance for Minority Participation (H-LSAMP), a BP Foundation grant and the UH College of Natural Sciences and Mathematics (NSM). The regatta is intended to encourage students at predominately minority and underprivileged high schools to study physics, chemistry, computer science, mathematics and engineering and is part of H-LSAMP's recruiting efforts for NSM. The competition is, however, open to all schools and students in grades 9-12. Deadline for
registration
is April 15.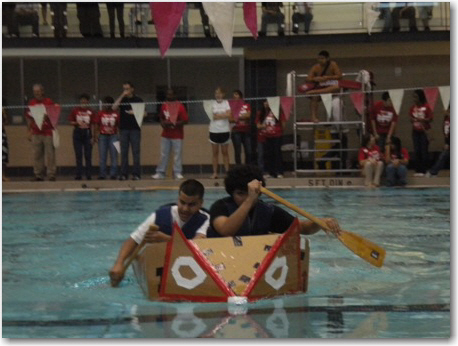 "Students will need to make connections between concepts in physics and what actually happens with their boat, whether it sails or capsizes," said Robert Dubois, a visiting assistant professor of physics at UH, who directs the department's outreach efforts. "In preparation for the event, I visit participating schools to give a 90-minute crash course in physics classes on buoyancy concepts that students need to know for building sturdy boats."
H-LSAMP is a well-established, federally funded program between UH and local schools with the goal of recruiting and funding minority students who choose to major in one of the STEM disciplines that include science, technology, engineering and mathematics. Since H-LSAMP began more than a decade ago, the number of minority undergraduates receiving science or engineering degrees from UH has risen 50 percent.
WHAT:
Spring Grand Challenge: Extreme Boating Regatta
WHEN:
9:30 a.m. to 2 p.m., Saturday, April 23
WHERE:
University of Houston
Campus Recreation and Wellness Center Natatorium
Map: http://www.uh.edu/campus_map/buildings/CRWC.php
WHO:
Houston-area high school students
UH's Houston-Louis Stokes Alliance for Minority Participation (H-LSAMP)
###
Editor's note: Photos of last year's event are available to media by contacting Lisa Merkl.
For more information about UH, visit the university's
Newsroom
.
To receive UH science news via e-mail, sign up for
UH-SciNews
.
For additional news alerts about UH, follow us on
Facebook
and
Twitter
.
---