A pair of University of Houston (UH) researchers and their colleagues will begin work to develop new methods for treating the most severe form of prostate cancer thanks to $5.2 million in grants recently awarded by the Cancer Prevention and Research Institute of Texas (CPRIT).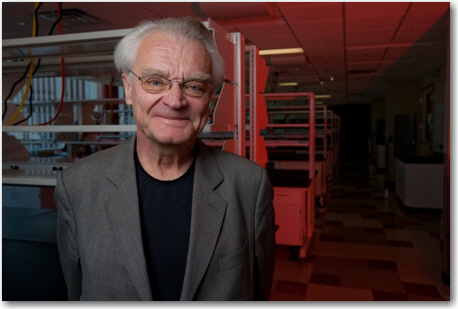 Renowned hormone researcher Dr. Jan-Åke Gustafsson, Robert A. Welch Professor in UH's biology and biochemistry department and director of the Center for Nuclear Receptors and Cell Signaling (CNRCS), will oversee the multi-investigator award. The work will be an interdisciplinary collaboration with researchers from the CNRCS at UH, The Methodist Hospital Research Institute (TMHRI) and the University of Texas at El Paso (UTEP).
As the founding researchers of CNRCS, Gustafsson and UH biology and biochemistry professor Margaret Warner will collaborate with Paul Webb of TMHRI and Marc Cox of UTEP to explore new treatments for prostate cancer. Gustafsson, who discovered a previously unknown estrogen receptor during the mid-1990s, is internationally recognized as a leading authority on hormone receptors and will lead the group in the discovery of innovative approaches to slowing the growth of early-stage cancers and combating late-stage cancers.
"More than 200,000 new cases of prostate cancer are diagnosed annually, affecting one in six men. In approximately one-third of diagnosed cases, the disease spreads and invades other tissues to become life-threatening," Gustafsson said. "Through this grant, we will be able to open the door for new and better therapies. Our early efforts have yielded promising results, and we look forward to building on our previous successes."
Prostate cancer grows and survives on male hormones called androgens, and current treatments target these naturally occurring hormones. This can result in negative and harmful side effects. In the most severe and recurrent forms, the cancer can become resistant to this therapy, at which point treatment options are extremely limited.
Armed with decades of experience in hormone research, Gustafsson and Warner will test plant-derived and synthetic chemicals resembling hormones to prevent and combat prostate cancer. The team also plans to develop drugs that target new areas of the androgen signaling system and work differently from existing therapies. Their collaboration with Webb and Cox will allow the team to expedite testing the feasibility of the new methods of treatment.
"This important award is an indication of UH's continuing commitment to research excellence and reflects the emphasis we place on finding real solutions to health-related problems," said UH President Renu Khator.
These grants, announced March 24, are part of $116 million awarded by CPRIT to 22 cancer research and commercialization projects at 16 Texas-based institutions and private companies. This is the second time the CNRCS has benefitted from CPRIT funding. Anders Strom, another researcher within the center, received funding from the institute last year for a collaborative project with TMHRI to develop new therapies for treating secondary tumors that may result from current breast cancer treatments.
In 2007, the state dedicated $3 billion to establish CPRIT and invest in groundbreaking cancer research and prevention programs in Texas. The institute focuses on expediting the innovation and commercialization of research, increasing the potential for breakthroughs and enhancing access to evidence-based prevention programs and services.
###
Editor's Note: High-resolution photos of Jan-Åke Gustafsson are available to media by contacting Lisa Merkl. 
About the University of Houston
The University of Houston is a comprehensive national research institution serving the globally competitive Houston and Gulf Coast Region by providing world-class faculty, experiential learning and strategic industry partnerships. UH serves more than 38,500 students in the nation's fourth-largest city, located in the most ethnically and culturally diverse region of the country.
About the UH Center for Nuclear Receptors and Cell Signaling
Established in 2009, the University of Houston Center for Nuclear Receptors and Cell Signaling (CNRCS) is the centerpiece of the university's tier-one biomedical research initiative and member of the internationally renowned Texas Medical Center. Working from the center's state-of-the-art labs, CNRCS researchers combine interdisciplinary research with dynamic collaboration within the medical center and with industry partners, with the goal of finding new treatments for an array of significant diseases, including cancer, diabetes and metabolic syndrome. To learn more, visit
http://cnrcs.uh.edu
.
About the College of Natural Sciences and Mathematics
The UH College of Natural Sciences and Mathematics, with 181 ranked faculty and approximately 4,500 students, offers bachelor's, master's and doctoral degrees in the natural sciences, computational sciences and mathematics.  Faculty members in the departments of biology and biochemistry, chemistry, computer science, earth and atmospheric sciences, mathematics and physics conduct internationally recognized research in collaboration with industry, Texas Medical Center institutions, NASA and others worldwide. 
For more information about UH, visit the university's
Newsroom
. 
To receive UH science news via e-mail, sign up for
UH-SciNews
. 
For additional news alerts about UH, follow us on
Facebook
and
Twitter
. 
---