This weekend's forecast calls for sunny skies, which is perfect for Saturday's Houston Solar Tour and Social.
The event is presented by the American Solar Energy Society and will offer participants the opportunity to take a tour of the city's solar commercial and residential solar projects. The University of Houston's Gerald D. Hines College of Architecture will host the Solar Social from 9 a.m. to noon. Members of Houston's solar and renewable energy communities will be on hand to deliver presentations and showcase products in the college's lecture hall.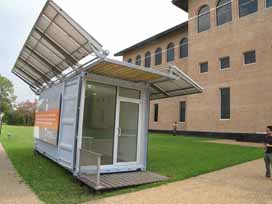 UH Green Building Components is among the organizations participating in the Solar Social and will spotlight several of its products and upcoming projects. These include:
Solar-Powered Adaptive Container for Everyone (pictured right), a recycled shipping container transformed into a functional work or living space.
PV-Pod, a water-filled polyethylene vessel used for mounting solar panels.
GroPOD, a modular raised bed gardening system.
Power Lots, parking awnings that shade cars and produce energy using solar panels

The Solar Social's schedule of presenters is as follows:
 9:10 - 9:30 a.m.: Standard Renewable Energy
9:40 - 10 a.m.: Green Built Custom Homes
10 - 10:20 a.m.: Houston Habitat for Humanity
10:30 - 10:50 a.m.: Alternative Power Solution
11 - 11:20 a.m.: UH Green Building Components
At noon, two guided bus tours will depart the social and return at 4 p.m. Each bus will follow a separate route. One bus will tour Houston sites, and the other will travel to the Clear Lake area. For complete details on the tour and social, visit http://www.houstonsolartour.com/.
UH Green Building Components is the College of Architecture's research initiative to design, develop and implement sustainable, renewable building components for the architecture, engineering and construction industries. This effort is funded by nearly $1 million in grants from Houston Endowment and the Meadows Foundation.
| | |
| --- | --- |
| WHAT: | Houston Solar Tour and Social |
| WHEN: | Social: 9 a.m. - noon; Tour: noon - 5 p.m. |
| WHERE: |  UH Gerald D. Hines College of Architecture (Entrance 18 off of Elgin Boulevard) |
| WHO: | American Solar Energy Society, UH Gerald D. Hines College of Architecture |
---