Don Chaney wants Houston businesses to crank it up on Cougar football game days...and he's not talking about the volume in the Robertson Stadium stands.
The University of Houston alumnus (MBA '89) is so proud of his alma mater and its football program, he launched the spirit campaign, CrankItUpCoogs. On his own time, he traveled around the city asking business owners to hang red UH flags in front of their establishments. The flags - which he purchased himself - would fly on the days UH plays at home and remind the community to support the Cougars.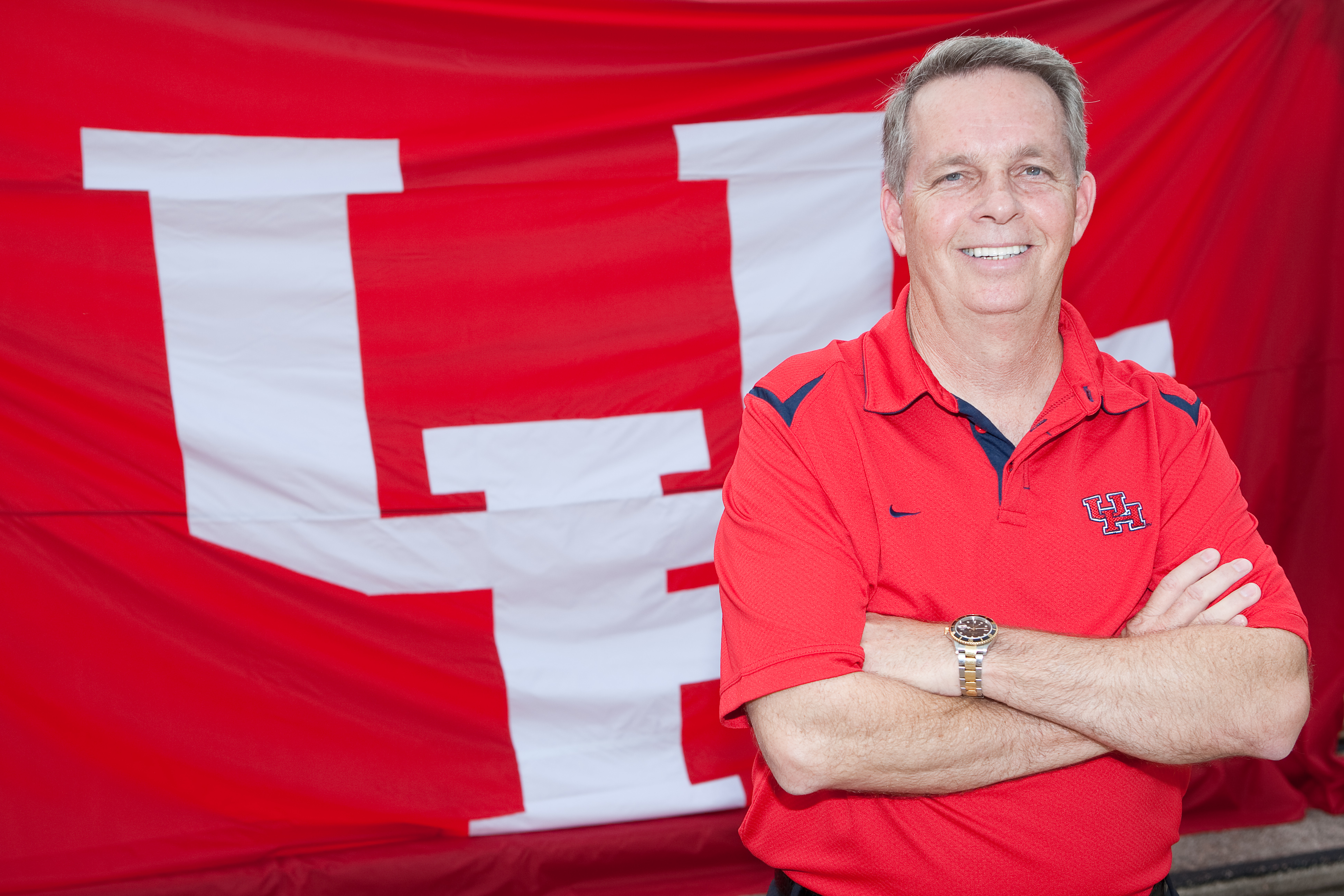 Chaney (not to be confused with the UH basketball great of the same name) began to notice the increasing fan numbers at Robertson Stadium. He also took note of the university's increased presence in the media (on national news and through the city's many "You Are The Pride" billboards) through its push for Tier One status.
What he didn't see were actual physical signs of community support throughout the city. Chaney decided to change that, but needed a plan.
"I didn't think I'd have much success if I just asked random people to hang UH flags," said Chaney, director of business development for CB&I in Houston. "So, I came up with the idea of CrankItUpCoogs and set three objectives. One is to increase awareness of UH in the community. The second goal was to encourage high school students to attend college, whether it's UH or another school. The third objective is to enhance the community image of the participating businesses."
In July, he began scouting prospective CrankItUpCoogs participants. To be considered, these businesses had to meet a specific criterion.
"They had to have a flag pole," Chaney said. "If you look around, many businesses have flag poles but don't even have a flag. I started making notes about who did and did not fly flags."
After making a list of prospective CrankItUpCoogs candidates, Chaney made trips to each business wearing his UH shirt and delivering an explanation of his campaign.
To his surprise, many business owners responded enthusiastically to his proposal. Even those with American flags already flying above their businesses were receptive to adding the UH flag on game days. Chaney received 27 commitments from businesses throughout the Houston areas.
"I saw about 100 businesses," he said. "About one out of four agreed to participate, which I feel is pretty good."
The businesses that are currently cranking up their Cougar flags include:
Apollo Paint and Body (6890 Southwest Freeway)
Downtown Body Shop (3611 Gulf Freeway)
Kelley's Country Cookin' (8015 Park Place Blvd.)
Lander's Financial Services (2318 Center St.)
Praxair (1234 Underwood Rd in LaPorte, Texas)
 RuhrPumpen (10010 Gulf Freeway)
 T-Bone Tom's (707 Highway 146 in Kemah, Texas)
Richmond Arms Pub (5920 Richmond Ave.)
 A&E The Graphics Company (4235 Richmond Ave.)
Mario Car Company (401 Spencer Highway in South Houston, Texas)
Rhodes and Dunlap Automotive (805 Spencer Highway in South Houston, Texas)
PBI Gas Depot (Highway 146 and NASA Parkway in Seabrook, Texas)
Uncle Bob's Self Storage (2400 Highway 146, LaPorte, Texas)
La Tapatia Mexican Restaurants (9903 Gulf Freeway)
Shell Rapid Lube (9210 Richmond Ave.)
Truck Nation (10015 610 N. Loop East)
Townsend Machine (3535 Berry Road)
Shamrock Equipment (3200 North Freeway)
Wing Stop (4102 Richmond Ave.)
Air Liquide Bayou Cogen Plant (11777 Bay Area Blvd.)
Southwest Alignment (8648 Richmond Ave.)
Motorwerks (5704 Southwest Freeway)
East Side Honda (12527 East Freeway, Baytown, Texas)
Petereit Investments (610 N. Loop)
La Tapatia Restaurant (6413 Hillcroft St.)

The owners of Downtown Body Shop already had a UH flag hanging inside its facilities and jumped at Chaney's offer to provide them with one for their flag pole. Drivers heading into downtown from the Gulf Freeway will have a hard time missing it. Even at night, the flag will be highly visible as a spotlight has been positioned to illuminate it.
"UH is not just a place of learning. It's also our neighbor," said Linda Carter, owner of Downtown Body Shop. "We're thrilled to show our support for an institution that's a major part of our community."
Adding to Carter's enthusiasm for UH is the fact that one of her sons soon will transfer to the university. If he needs to get the inside scoop on what to expect, he need look no further than Chaney, who fondly recalls his days as a graduate student.
"I had a great experience at UH," Chaney said. "In fact, people thought I was losing my mind when I was actually sad to be graduating. It meant I wouldn't be coming to campus regularly or visiting with all of the great faculty."
Chaney is a football season ticket holder and often attends other athletics events on campus. Cougar sports, however, are just one reason he jumpstarted CrankItUpCoogs. The university's Tier One goals and its continued growth also inspired him to pay back his alma mater in a unique way.
"I feel that right now UH's leadership is doing a fantastic job," he said. "There are so many capital improvements on campus, and the faculty is outstanding. Those are some of the reasons I began this campaign. I know we're trying to reach Tier One status, and I thought that we needed more visible signs of community support."
It's not too late for other business owners to participate in CrankItUpCoogs. Those interested in becoming a Cougar booster can contact Chaney at houstonbooster@yahoo.com.
Participation, however, isn't limited to businesses. Chaney encourages individuals, students groups, faculty or staff to lend him ideas, suggestions and support as he continues to support the university.
"I want this to be a tradition," he said. "It can certainly extend beyond flying flags on game day, but I hope to see more red and white across Houston in the future."
To view a list of locations where CrankItUpCoogs flags are flying and for more details on the campaign, visit http://www.crankitupcoogs.com/,
---