Mix a potion of a dedicated teacher, caring students and a worthy cause against seemingly impossible odds, and you have a subject ripe for a Harry Potter novel.
The difference, here, is that this is no fictional story. As such, there is no need to conceal the ending: This special teacher and her class will be featured Monday (May 17) on the NBC Today Show. They are one of four classes nationwide to be selected as finalists in a contest called "The Wizarding World of Harry Potter Most Extraordinary Class" contest. The contest, which will be decided by votes from viewers, was open to students ages 5 to 18 in classes across the country. The segment and information will be posted online Monday at: www.todayshow.com.
Visit msnbc.com for Breaking News, World News, and News about the Economy
Lindsay Richard has been a teacher for nine years, after graduating Summa Cum Laude from the University of Houston. She taught first grade for two years in the Alief Elementary School District, before marrying fellow Cougar Michael Richard, class of 2001. The couple moved to San Antonio, where Lindsay currently teaches first grade at Wilderness Oak Elementary in the North East Independent School District. The Wilderness Oak students are being recognized for their amazing response to the Haiti earthquake crisis.
"They came to me concerned and wanting to help," Lindsay Richard says. "We began a fundraiser called 'Hearts for Haiti.'  We sold Valentines to our school for $1 and initially raised more than $4,200 in one week. 
"Since then, the kids have talked with their parents, who, in turn, gave more money and talked to their employers, who have donated even more money. We have now, to date, raised over $9,400
With her students, she made a three-minute video explaining their effort, and the Today Show came to their school in April to film the class for an entire day. This led to their selection among the four nationwide finalists.  Voting will take place Monday through Wednesday, with winners announced live Thursday morning on the Today Show by Emma Watson, who starred as Hermione in the Harry Potter movies.
Win or lose, the experience will teach her students valuable lessons, and that's what matters most, Lindsay Richard says.
"Teaching, to me, is a work of heart," she says. "I love helping children learn, grow and, most importantly, explore their world and have fun! My job is my passion. 
"I am a believer in children learning leadership skills so they may be the productive leaders of tomorrow.  As a teacher, I am preparing my students for a world with technologies and jobs that don't even exist yet."
She also strives to help her students learn vital social skills and research skills so they can be successful in any endeavor they may choose in life.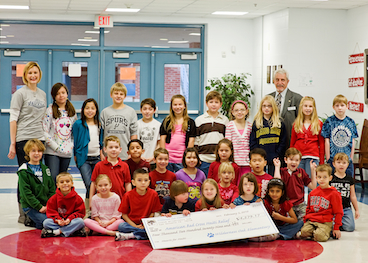 "When my students came to me wanting to help others and make the world a better place, I felt it was my mission to help them with this," she says. "They were involved in our Haiti fundraiser from the planning to the counting of money and delivery of a giant check to the American Red Cross. 
"They spoke with local media to let our community know of the wonderful thing they were doing. Because of this project, my students have learned so much about communication, fundraising and, most importantly, helping others in need!  Now, we have brought our message to the entire world through this contest!"
Richard already knows her class can count on one vote.In an email expressing congratulations, UH President Renu Khator said, "You make us proud. I will certainly watch and vote for you."
---